Practice Essentials
Yersinia enterocolitica (see the image below) is a bacterial species in the family Enterobacteriaceae that most often causes enterocolitis, acute diarrhea, terminal ileitis, mesenteric lymphadenitis, and pseudoappendicitis but, if it spreads systemically, can also result in fatal sepsis.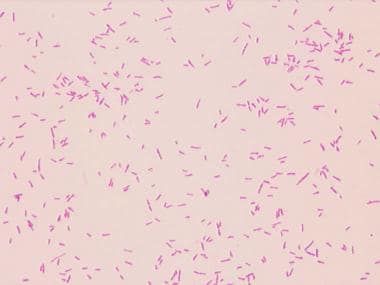 Gram stain of Yersinia enterocolitica.
Signs and symptoms
Symptoms of Y enterocolitica infection typically include the following:
Diarrhea – The most common clinical manifestation of this infection; diarrhea may be bloody in severe cases
Low-grade fever
Abdominal pain – May localize to the right lower quadrant
Vomiting – Present in approximately 15-40% of cases
The patient may also develop erythema nodosum, which manifests as painful, raised red or purple lesions, mainly on the patient's legs and trunk. Lesions appear 2-20 days after the onset of fever and abdominal pain and resolve spontaneously in most cases in about a month.
See Clinical Presentation for more detail.
Diagnosis
The following tests can be used in the diagnosis of Y enterocolitica infection:
Stool culture – This is the best way to confirm a diagnosis of Y enterocolitica
; the culture result is usually positive within 2 weeks of onset of disease
Tube agglutination
Enzyme-linked immunosorbent assays
Radioimmunoassays
Imaging studies – Ultrasonography or computed tomography (CT) scanning may be useful in delineating true appendicitis from pseudoappendicitis
Colonoscopy – Findings may vary and are relatively nonspecific
Joint aspiration in cases of Yersinia- associated reactive arthropathy
See Workup for more detail.
Management
Care in patients with Y enterocolitica infection is primarily supportive, with good nutrition and hydration being mainstays of treatment.

First-line drugs used against the bacterium include the following agents:
Third-generation cephalosporins
Trimethoprim-sulfamethoxazole (TMP-SMZ)
Tetracyclines
Fluoroquinolones – not approved for use in children under 18 years
Aminoglycosides
See Treatment and Medication for more detail.