Practice Essentials
Norovirus, formerly referred to as Norwalk virus, is the most common cause of epidemic nonbacterial gastroenteritis in the world.
The image below depicts the norovirus genomic structure and capsid domains.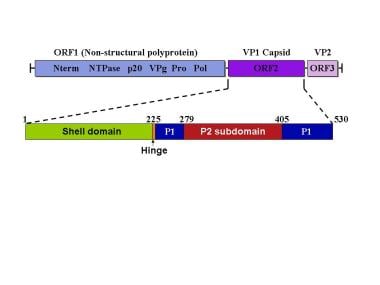 The norovirus genomic structure and capsid domains.
Signs and symptoms
Symptomatic norovirus gastroenteritis typically develops 24-48 hours after ingestion of contaminated food or water or after contact with an infected individual. The onset can be abrupt or gradual, but each episode is short-lived, lasting only 24-72 hours. Symptoms include the following:
Nausea and vomiting (profuse, nonbloody, nonbilious)
Watery diarrhea (nonbloody)
Abdominal cramps
Headaches
Low-grade fever is common: But temperatures may reach 38.9˚C
Myalgias and malaise
Focal tenderness and peritoneal signs are absent in abdominal examination. Vital signs in norovirus gastroenteritis include the following:
Low-grade fever
Tachycardia
Possible hypotension with volume depletion
See Clinical Presentation for more detail.
Diagnosis
Laboratory studies
Norovirus infection can be detected via the following studies:
Immune electron microscopy: Immune serum is used to aggregate virus in stool samples to aid detection
Antigen detection immunoassay: Has high sensitivity but low specificity because of reactivity with antigenic variants and homologous viruses
Nucleic acid amplification: Highly sensitive and specific

Serum antibody titers can be detected within 2 weeks of illness. During norovirus infection, immunoglobulin M (IgM) to norovirus has been found to be more specific than IgG.

Imaging studies
Imaging for isolated, uncomplicated gastroenteritis is not required. In patients with severe symptoms in whom acute abdomen is suspected and in those with preexisting disorders such as inflammatory bowel disease, abdominal radiography or computed tomography scanning should be performed.
New strain
In January 2013, the US Centers for Disease Control and Prevention (CDC) reported that a new norovirus strain, GII.4 Sydney, which was first detected in Australia, had spread to the United States. During the last 4 months of 2012, GII.4 Sydney accounted for 53% of 266 norovirus outbreaks in the United States, with roughly half of them having resulted from direct person-to-person transmission and another 20% having been foodborne. In general, GII.4 strains are associated with higher rates of hospitalization and death.

See Workup for more detail.
Management
Treatment of norovirus gastroenteritis includes the following:
Oral fluid and electrolyte replacement: Generally adequate for the treatment of norovirus infections
Intravenous fluid and electrolyte resuscitation: May be necessary in cases of severe volume depletion
Antiemetics: For relief of nausea and vomiting
Analgesics: For relief of myalgias and headache
Antiperistaltic agents: Should generally be avoided in cases of infectious diarrhea but can be considered in patients with severe diarrhea
See Treatment and Medication for more detail.