Background
Localized and generalized accumulations of lower extremity fat have tested the skills of plastic surgeons for decades. Patients with localized fat accumulations often desire removal for aesthetic reasons, whereas patients with large, especially circumferential, accumulations desire removal for functional as well as aesthetic reasons. Kelly was one of the first to recognize the possibility of direct excision of excess skin and fat of the abdomen.
This led to direct excision of localized fat on the lower extremities.
Lewis first described the circumferential excision of thigh skin and fat with a vertical closure.
Farina performed direct lateral excision that, while improving the contour of the lateral thigh, produced huge, highly visible scars.
Pitanguy was the first to describe a thigh lift incision that was hidden within the bathing suit line.
This resection also was the first to address inner and outer thigh skin and fat excess and to correct buttock ptosis.
Over the years, thigh plasty has evolved from variations on this theme. Major variations dealt with the location of the lateral scar. Baroudi kept his lateral incisions low.
Regnault et al brought the incision higher, onto the buttock. Finally, Grazer and Klingbeil raised the incisions to the level of the midbuttock to conceal the scar beneath normal clothing.

Flankoplasty rarely is performed alone. It is most often combined with abdominoplasty and thigh plasty procedures (see the image below). Somalo first described the circumferential dermolipectomy.
Gonzalez-Ulloa first described the belt lipectomy in 1960, adding a vertical wedge resection.
Whereas belt lipectomy is usually indicated for obesity or excess skin from massive weight loss, partial belt lipectomies can produce dramatic results.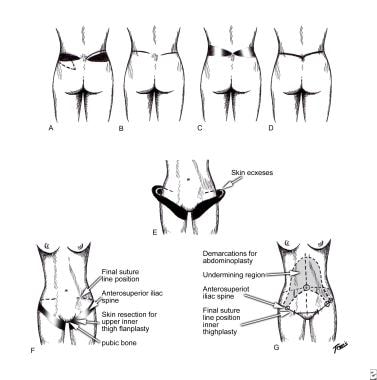 Trunk and lower extremity.
McCraw first described multiple procedures on a patient with massive weight loss, combining abdominoplasty, brachioplasty, mastopexy, and thigh lift.
Zook was able to standardize the procedure by describing the following individual procedures and their sequence: patient marking (in the standing position), long S-shaped incisions, and preservation of veins and lymphatic vessels.
As Regnault indicates, the problem is more a resection of redundant skin and subcutaneous fat rather than a resection to cure obesity.
Today, buttock and thigh lifting continue to be relatively rarely performed procedures, for a number of reasons.
Excisional thigh and buttock surgery is technically difficult, can result in significant blood loss, and produces significant scarring. Postoperative morbidity is significant. Suction-assisted lipectomy (SAL) has gained great acceptance because of the relative ease with which it may be performed. Some authors are extending the boundaries in its use for treating obesity.
Hunstad notes that "excision contouring in the obese patient is appropriate in virtually all areas previously discussed for nonexcisional (SAL) patients."

The future may rest in developing combinations of the 2 techniques. This is not without risk. In certain areas, performing aggressive superficial liposuction and combining it with wide undermining is not safe. However, with experience and small cannulas (< 3 mm), dramatic results may be obtained.
The future of flankoplasty depends on the surgeon's ability to restore normal body contour with the least possible scarring. Certainly, SAL has provided a powerful tool to remove fat. SAL does not treat skin laxity and can worsen truncal deformity. The main goal should be to improve the quality of scars. This can be accomplished by relieving the tension on them. Addressing the superficial fascial system (SFS), as described by Lockwood, appears to be the best way to do this.