Background
Cystic echinococcosis (CE) is the larval cystic stage (called echinococcal cysts) of a small taeniid-type tapeworm (Echinococcus granulosus) that may cause illness in intermediate hosts, generally herbivorous animals and people who are infected accidentally. Ultrasonographic appearance of echinococcal cysts is seen in the image below.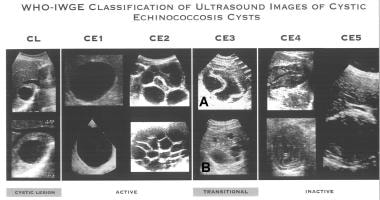 WHO Informal Working Group on Echinococcosis standardized ultrasound classification of echinococcal cysts. Image courtesy of World Health Organization (WHO).
Three other species are recognized within the genus Echinococcus, and they may also develop in the human host and cause various forms of echinococcosis (hydatidosis). E granulosus is discussed separately from the other 3 species, notably Echinococcus multilocularis, which causes alveolar echinococcosis, because of marked differences in epidemiology, clinical features, diagnosis, and treatment.
In the normal life cycle of Echinococcus species, adult tapeworms (3-6 mm long) inhabit the small intestine of carnivorous definitive hosts, such as dogs, coyotes, or wolves, and echinococcal cyst stages occur in herbivorous intermediate hosts, such as sheep, cattle, and goats. A number of other suitable intermediate hosts, such as camels, pigs, and horses, are involved in the life cycle in many parts of the world.
In the typical dog-sheep cycle, tapeworm eggs are passed in the feces of an infected dog and may subsequently be ingested by grazing sheep; they hatch into embryos in the intestine, penetrate the intestinal lining, and are then picked up and carried by blood throughout the body to major filtering organs (mainly liver and/or lungs). After the developing embryos localize in a specific organ or site, they transform and develop into larval echinococcal cysts in which numerous tiny tapeworm heads (called protoscolices) are produced via asexual reproduction.
These protoscolices are infective to dogs that may ingest viscera containing echinococcal cysts (with protoscolices inside), mainly because of the habit in endemic countries of feeding dogs viscera of home-slaughtered sheep or other livestock. Protoscolices attach to the dog's intestinal lining and, in approximately 40-50 days, grow and develop into mature adult tapeworms, once again capable of producing infective eggs to be passed to the outside environment with the dog's feces.
Because humans play the same role of intermediate hosts in the tapeworm life cycle as sheep, humans also become infected by ingesting tapeworm eggs passed from an infected carnivore. This occurs most frequently when individuals handle or contact infected dogs or other infected carnivores or inadvertently ingest food or drink contaminated with fecal material containing tapeworm eggs.