Overview
Infection with Coccidioides immitis, a soil-inhabiting fungus native to the San Joaquin Valley in California, causes an illness in humans called coccidioidomycosis. Coccidioidomycosis is found in Arizona, California, New Mexico, Texas, northern Mexico, and other areas with a climate similar to that of South America. Arizona diagnoses 60% of cases nationwide each year.

After the organism is inhaled into the lungs, the arthrospore develops into a thick-walled spherule that is filled with endospores (see the image below). Once the endospore is released, it can start the development of a new spherule, allowing the infection in the host to progress. Coccidioidomycosis is not known transmit from person to person.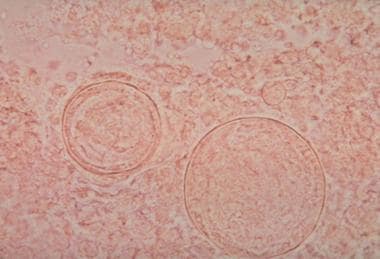 Coccidioides immitis spherule containing daughter spores.
See A Chronic, Scaly Rash Mistaken for MRSA: Case Presentation, a Critical Images slideshow, to review additional images and details of a case of Coccidioidomycosis.
On the basis of clinical presentation and imaging abnormalities, pulmonary involvement of coccidioidomycosis is categorized into acute, disseminated, and chronic forms. In patients with acute disease, the most common findings are lobar or segmental consolidation, multifocal consolidation, and nodules. Adenopathy and pleural effusions are also seen, usually in association with parenchymal disease.

The risk of infection is highest in the dry summer months; a secondary period of high risk usually occurs in the late fall, terminating with winter rains. Dust exposure is a critical route for C immitis infection; individuals who dig in the soil or who are exposed to the disrupted earth are at greatest risk.

C immitis can disseminate from the lungs and thoracic cavity to infect other organs, such as bone, joints, skin, and meninges. Dissemination usually occurs within weeks or months after the primary pneumonia.
Imaging modalities
Imaging studies in patients with suspected or confirmed coccidioidomycosis include plain chest radiography, computed tomography (CT), magnetic resonance imaging (MRI), and, possibly, positron-emission tomography (PET).
Chest radiography is readily available and is usually the first imaging study performed. It assists in clinical staging of the disease and is useful in following up the progression or resolution of the disease. However, chest radiographic findings are nonspecific and variable. Chest radiographic findings alone are not diagnostic of thoracic coccidioidomycosis, because other infectious diseases and neoplastic processes may mimic the disorder.
Chest radiography should be performed in all patients in whom coccidioidomycosis is suspected or confirmed, because of the possibility of pulmonary infection. In patients with suspected coccidioidal osteoporosis, plain radiographs of the affected bone are indicated.
Asymptomatic patients may have normal chest radiographic findings, and a normal result generally excludes significant clinical disease. The chest radiographic findings may progress from single or multiple areas of airspace consolidation to the formation of nodules or cavities, which may further progress to diffuse reticulonodular lung disease and upper-lobe scarring. In some patients with disseminated disease, radiographs may not show evidence of previous pulmonary disease, and the patients will have no history of a preceding respiratory illness.
Patients suspected of having meningitis should undergo neuroimaging studies. MRI is more sensitive than other studies to identify central nervous system involvement, and it is the preferred modality if spinal cord impingement is suspected.
Lammering et al conducted a retrospective imaging review of 23 patients with proven coccidioidal CNS meningitis and evaluated the prevalence and significance of concurrent coccidioidal brain and intraspinal disease. All patients had intracranial abnormalities, and 86% (19/22) who underwent spinal imaging had signs of intraspinal disease, including leptomeningeal enhancement (84%), arachnoiditis (63%), and cord signal abnormalities (37%). Seven of 15 patients (47%) who underwent myelography had complete spinal blocks.

PET scans are increasingly used in the diagnosis and staging of invasive fungal infections, including coccidioidomycosis, and may be able to detect lesions that are not otherwise visualized with CT.
In patients with confirmed skeletal involvement or highly suspected osseous dissemination, a bone scan should be obtained to assess concurrent silent or multifocal osteomyelitis.