Reference Range
Deoxycorticosterone (DOC) is a C-21 (21 carbon atoms) steroid hormones synthesized in the zona fasciculata (ZF) and zona glomerulosa (ZG) of the adrenal gland and is a precursor for the synthesis of cortisol and aldosterone (see the image below).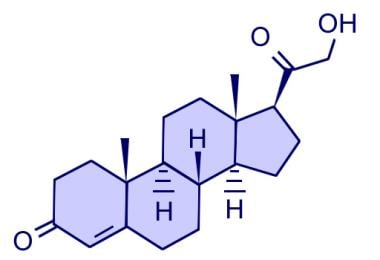 Deoxycorticosterone.
The reference range for DOC can be seen in the table below.
Table 1. Deoxycorticosterone Reference Range (Open Table in a new window)
| | | |
| --- | --- | --- |
| | Conventional units | SI units |
| Male | 3.5-11.5 ng/dL | 106-333 pmol/L |
| Female | | |
| Follicular phase | 1.5-8.5 ng/dL | 45-257 pmol/L |
| Luteal phase | 3.5-13 ng/dL | 91-393 pmol/L |
| Pregnancy | | |
| 1st trimester | 5-25 ng/dL | 151-757 pmol/L |
| 2nd trimester | 10-75 ng/dL | 303-2270 pmol/L |
| 3rd trimester | 30-110 ng/dL | 908-3329 pmol/L |
| Children | | |
| < 1 y | 7-57 ng/dL | 212-1725 pmol/L |
| 1-5 y | 4-49 ng/dL | 121-1483 pmol/L |
| 6-12 y | | |
| Male | 9-34 ng/dL | 272-1029 pmol/L |
| Female | 2-13 ng/dL | 61-393 pmol/L |