Overview
The term nonalcoholic steatohepatitis (NASH) was first coined by Dr. Ludwig 3 decades ago to describe a unique entity characterized by fatty changes with lobular hepatitis in the absence of a history of alcoholism (see the first image below).
The main lesions described in that study—namely, steatosis, liver cell injury, and the unique zone 3 "chicken wire" fibrosis (see the second image below)—remain central in establishing the diagnosis.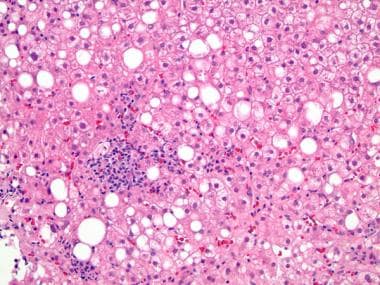 This image shows steatohepatitis with steatosis and predominantly macrovesicular and inflammatory foci, composed predominantly of lymphocytes and Kupffer cells in the hepatic lobules (hematoxylin-eosin stain, 200× magnification).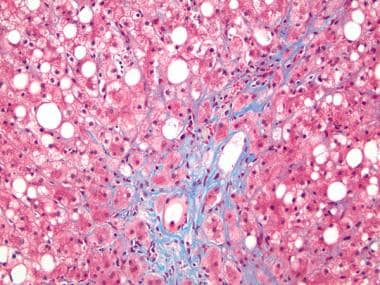 A Masson trichrome stain shows perivenular/pericellular ("chicken wire") fibrosis in nonalcoholic steatohepatitis (NASH) (200× magnification).
Since NASH was first identified in 1980, it has been increasingly recognized. At present, nonalcoholic fatty liver disease (NAFLD) has become the most common liver disease in the United States and, indeed, worldwide. The prevalence of NAFLD is rising rapidly because of ongoing epidemics of obesity and type 2 diabetes. NAFLD is also an emerging problem in the Asia-Pacific region, where it is likely to increase in the future.

The estimated prevalence of NAFLD in the general US population is currently in the range of 20%,
and that of NASH is about 3.5-5%.
The prevalence in the morbidly obese population has been estimated as 75-92%, and up to 17% of children and adolescents may be affected with NAFLD.