Overview
Arrhythmogenic right ventricular cardiomyopathy (ARVC) is a primary disease of heart muscle that results in fibrofatty replacement of the right ventricle and the subepicardial region of the left ventricle. Patients are at high risk for ventricular tachyarrhythmias and sudden death (see the image below).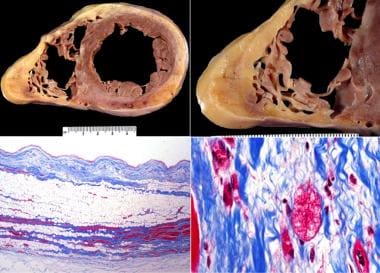 Arrhythmogenic right ventricular cardiomyopathy (ARVC), biventricular, autopsy heart in a young man who died suddenly playing basketball. Top left demonstrates increased fat in the outer walls of the right ventricle and left ventricular posterolateral walls. A higher magnification of the right ventricle is seen at the top right image; the anterior wall is nearly completely replaced with fat, and fibrofatty irregular posterior wall involvement is seen. Note that no actual thinning of the wall itself exists, although the muscular portion is in some areas completely missing. The bottom left image demonstrates a full thickness of the right ventricle stained with Masson trichrome. The residual muscle is present only in a bandlike area of scarring, and subepicardial scarring is present as well. The characteristic myocyte vacuolization, depicted in the bottom right image, is seen in nearly all areas of ARVC within the scarred areas.
Although ARVC was initially described in the right ventricle,
examination of the heart in autopsy cases of ARVC, microscopically or with sensitive imaging techniques,
has established that most patients with ARVC have biventricular involvement.
The left ventricular involvement is typically subepicardial, and the changes are related more to fibrosis than to fat or fibrofatty infiltration, although at times the changes are probably similar to those seen in the right ventricle. However, because the right ventricle is relatively thin, the subepicardial nature of disease is difficult to appreciate in imaging studies and has only infrequently been investigated at autopsy.
Atrial involvement appears not to have been adequately investigated.
Previously, investigators postulated that ARVC begins in the right ventricle and progresses to biventricular involvement and heart failure. However, newer imaging techniques have revealed that left ventricular involvement is typical from the onset.

Some patients with ARVC develop heart failure and intractable arrhythmias and are treated with heart transplantation. A subset of these patients carries the clinical diagnosis of idiopathic dilated cardiomyopathy. In such patients, the pathologic diagnosis of ARVC is made initially on finding fibrofatty replacement on histologic sections of the recipient's explanted heart.