Overview
Infection involving the oral cavity can be associated with significant morbidity. In addition, recent studies have suggested that some types of oral infection may potentially confound a number of systemic problems including cardiac disease, pregnancy, kidney disease, and diabetes.

The image below depicts candidiasis.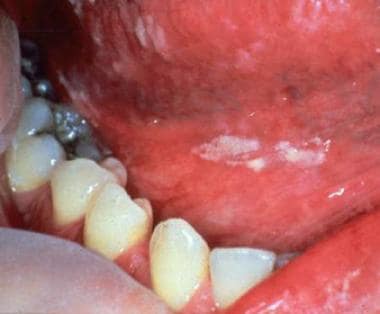 Candidiasis. White plaques are present on the buccal mucosa and the undersurface of the tongue and represent thrush. When wiped off, the plaques leave red erosive areas. Image courtesy of Matthew C Lambiase, DO.
See Clues in the Oral Cavity: Are You Missing the Diagnosis?, a Critical Images slideshow, to help identify the causes of abnormalities of the oral cavity.
Relevant Anatomy
The oral cavity (see the image below) is oval shaped and is separated into the oral vestibule and the oral cavity proper. It is bound by the lips anteriorly, the cheeks laterally, the floor of the mouth inferiorly, the oropharynx posteriorly, and the palate superiorly. The oropharynx begins superiorly at the junction between the hard palate and the soft palate, and inferiorly behind the circumvallate papillae of the tongue. The bony base of the oral cavity is represented by the maxillary and mandibular bones.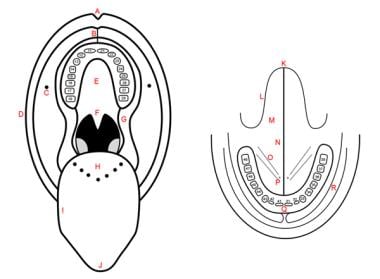 Schematic representation of oral cavity and floor of mouth. A: philtrum; B: upper labial frenulum; C: opening of Stensen's duct; D: labial commissure; E: hard palate; F: soft palate; G: intermaxillary commissure; H: base of tongue; I: lateral border of tongue, dorsal view; J: tip of tongue, dorsal view; K: tip of tongue, ventral view; L: lateral border of tongue, ventral view; M: ventral surface of tongue; N: lingual frenulum; O: floor of mouth; P: opening of Wharton's duct; Q: vestibular gingiva; R: vestibule. Teeth are numbered according to international classification.
The tongue is basically a mass of muscle that is almost completely covered by a mucous membrane. It occupies most of the oral cavity and oropharynx. It is known for its role in taste, but it also assists with mastication (chewing), deglutition (swallowing), articulation (speech), and oral cleaning. Five cranial nerves contribute to the complex innervation of this multifunctional organ.
For more information about the relevant anatomy, see Mouth Anatomy and Tongue Anatomy.