Overview
The term non-Hodgkin lymphoma (NHL) encompasses a heterogeneous mix of lymphomas, which are either of a B- or T-cell phenotype and that meet the diagnostic criteria for one of the subtypes detailed in the 2008 World Health Organization (WHO) Classification of Tumours of Haematopoietic and Lymphoid Tissues.
Most primary lymphomas of the bone are of the NHL type and of the diffuse large B-cell lymphoma (DLBCL) subtype.

Primary NHL of bone (primary bone lymphoma) is a rare condition, accounting for less than 1-2% of adult NHL and less than 7-10% primary bone tumors.
The majority of the cases are limited disease by the Ann Arbor staging system and occur in adults of age 45-60 years.
Rare cases occur in children with a mean age of 12 years.
The male–to-female ratio is either equal or shows a slight male predominance.

The etiology of primary NHL of bone is not currently known. Certain subtypes of NHL have been shown to be associated with a virus (Epstein-Barr virus [EBV], human immunodeficiency virus [HIV], human herpes virus-6 [HHV-6]).
However, viral etiology has not been studied to any great extent in primary NHL of bone.
Due to its rare occurrence, the optimal treatment for primary NHL of bone is not known. Radiation, the traditional standard of care, may be given alone or, more commonly, combined with chemotherapy as a multimodality approach. The sequence of radiation and chemotherapy varies in the literature, and the optimal sequence of treatments is not currently known.
CHOP-R (cyclophosphamide, doxorubicin, vincristine, prednisolone, rituximab) is a commonly utilized regimen. As necessary, stabilization of a pathologic fracture or laminectomy will occur before the initiation of other therapies.
The use of bisphosphonates in primary NHL of bone has not been explored to any great extent.

The following image depicts a radiograph with lytic lesions in an adult long bone.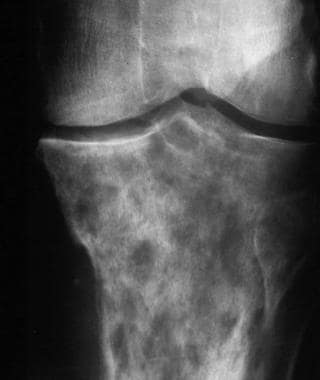 Radiologic studies will often show a moth eaten/permeative lytic pattern that can involve the entire bone. There is usually no internal matrix production with these tumors.
Go to Malignant Lymphoma and Non-Hodgkin Lymphoma for complete information on these topics.