Background
Asthma is a chronic inflammatory disease characterized by hyperresponsiveness of airways to various stimuli. This condition has evolved rapidly over the past few years into an immunologic condition that is a responsive target for precision medicine. The US Food and Drug Administration (FDA) recently approved three anti-interleukin (IL)-5 agents to treat eosinophilic asthma (reslizumab, benralizumab, and mepolizumab) as well as an anti-IL4Ra biologic agent (dupilumab) for the indication of moderate to severe asthma in patients 12 years and older.
The new standard of care in asthma is to immunologically phenotype the patient, assess the total immunoglobulin (Ig) E level, and obtain a complete blood cell (CBC) count with differential to ascertain the absolute eosinophil count. Based on the elevation of total IgE or the absolute eosinophil count, a targeted precision biologic agent is usually selected.

Asthma is complex disease that affects patients of all ages. Although asthma has an equal incidence across all age groups, asthma in the elderly is often underdiagnosed and undertreated. A case-control cohort study showed that older adults with asthma have a higher rate of allergic sensitization, decreased lung function, and significantly worse quality of life when compared to controls.

Some of the stimuli or triggers may generally be subdivided into allergic (allergens such as pollen, molds and fungi, dust mites, pet dander, and insects) or nonallergic (eg, cold air, infections, diesel exhaust, indoor/outdoor air pollution, perfume, tobacco smoke, and other irritants). See the image below.

Asthma in older adults. Allergic and nonallergic triggers.
Medical conditions such as rhinosinusitis, gastroesophageal reflux, and aspirin or nonsteroidal anti-inflammatory drug (NSAID) sensitivity may also trigger or exacerbate asthma.
Elderly patients with asthma face disproportionate morbidity, mortality, and cost when compared with younger patient groups. They represent a higher number of unscheduled outpatient visits, emergency room visits, and asthma-related hospitalizations; once hospitalized, the death rate attributable to asthma for patients older than 65 years is 14 times higher than that of patients aged 18-35 years.

Some of the independent risk factors for asthma in older adults include house dust mite sensitization and maternal smoking.

Normal lung tissue and constricted lung tissue are demonstrated in the image below.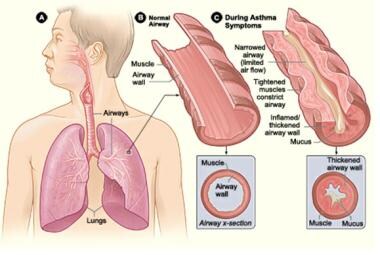 Asthma in older adults. Lung tissue normal versus constricted.