Background
Cervical arthrodesis is a surgical procedure that joins selected bones in the cervical spine.
Surgical pathologies of the cervical spine have commonly been addressed through anterior and posterior approaches. The anterior approach to the cervical spine was developed in the 1950s by Robinson and Smith,
Bailey and Badgley,
and Cloward.
However, the posterior approach to the cervical spine remained the preferred choice of many spinal surgeons until the 1980s, when Meyer reported on the management and treatment of traumatic cervical spine fractures through the anterior approach.
For more information, see Approach Considerations.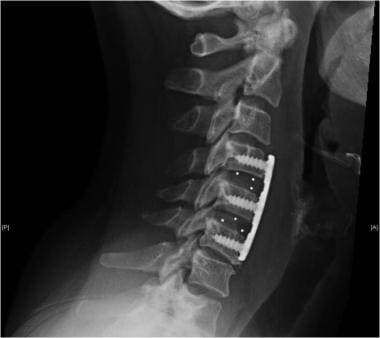 Lateral radiograph shows a two-level anterior cervical discectomy and fusion from C 4/5 through 6/7. An anterior plate with carbon fiber intervertebral spacers are used for fusion and internal fixation.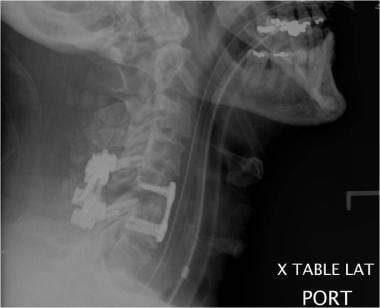 Postoperative lateral radiograph shows anterior and posterior fusion with instrumentation in a patient with an unstable cervical spine fracture.