Overview
Myelodysplastic syndromes (MDS), as defined by the World Health Organization (WHO), represent clonal hematopoietic stem cell disorders resulting in ineffective hematopoiesis.

Refractory anemia with ring sideroblasts (RARS), a clonal hematopoietic neoplasm, is a low-grade MDS characterized by anemia, bone marrow erythrodysplasia, and ring sideroblasts; ring sideroblasts represent 15% or more of nucleated erythroid precursors.
RARS is associated with an increase in the risk of progression to overt acute myeloid leukemia (AML), as well as shortened overall survival, although these risks are not as great as with MDS of higher grades. See the image below.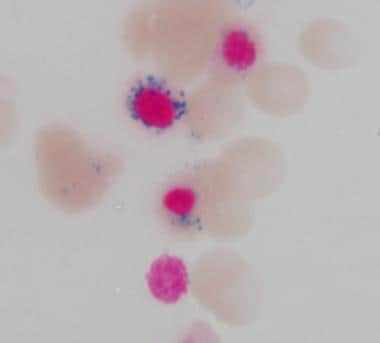 Ring sideroblasts.
See Myelodysplastic Syndromes: Classification, Features, Diagnosis, and Treatment Options, a Critical Images slideshow, to help identify, classify, work up, and treat these disorders.
The presence of ring sideroblasts alone is not sufficient for a diagnosis of RARS; complete evaluation of the nonerythroid lineages is necessary. Dysplasia in the granulocytic and megakaryocytic lineages is not present in RARS. Myeloblasts account for fewer than 5% of nucleated bone marrow cells, and Auer rods are absent.
Although the pathophysiologic mechanisms underlying RARS are not entirely elucidated, there is compelling evidence of mitochondrial dysfunction in early stages of erythroid maturation, leading to abnormal mitochondrial iron deposition and ineffective hematopoiesis.

See Pathology of Refractory Anemia with Excess Blasts, Chronic Anemia, Chronic Pediatric Anemia, and Emergent Management of Acute Anemia for complete information on these topics.