Overview
Crohn disease (CD) is an idiopathic, chronic regional enteritis that most commonly affects the terminal ileum but has the potential to affect any part of the gastrointestinal tract from mouth to anus. This condition was first described by Crohn, Ginzburg, and Oppenheimer in 1932, but it was not clinically, histologically, or radiographically distinguished from ulcerative colitis (UC) until 1959.

Untreated CD is characterized by transmural (full-thickness) inflammation, involvement of discontinuous segments of the intestine (skip areas), and, in a proportion of cases, by non-necrotizing granulomas composed of epithelioid histiocytes. Patients present with a range of symptoms, including crampy abdominal pain and diarrhea, which may be complicated by intestinal fistulas, particularly after surgical intervention, by intramural abscesses, and by bowel obstruction.
The diagnosis of CD can be difficult, and the proper clinical separation of this entity from UC has important therapeutic implications.
Consequently, a thorough understanding of the clinical, radiologic, endoscopic, and pathologic features of CD, as well as effective communication between the pathologist and the managing clinicians, is essential to diagnostic accuracy.
Below are examples of some gross features of Crohn disease.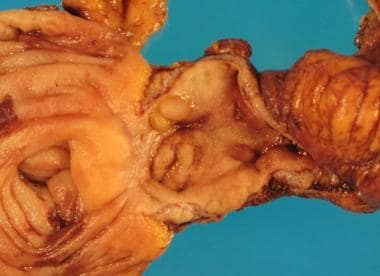 Mucosal pseudopolyps (inflammatory pseudopolyps) of the terminal ileum in a patient with Crohn disease. These polyps can reach giant proportions, up to 5 cm in maximum dimension, and are often seen on the proximal side of an ulcerated stricture (a "sentinel" inflammatory polyp).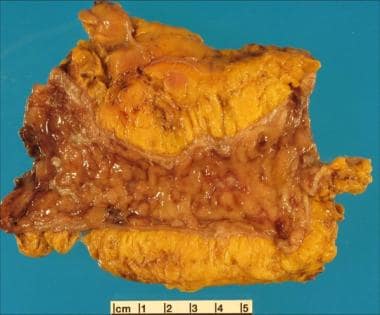 Cobblestone change of the mucosa of the terminal ileum in a patient with Crohn disease. Communicating fissures and crevices in the mucosa separate islands of more intact, edematous epithelium.
See Crohn Disease and Imaging in Crohn Disease for more information on these topics.