Overview
Sebaceous carcinoma is an aggressive, malignant tumor arising from sebaceous glands of the skin adnexa (see the following image). Many tumors may show sebaceous differentiation; however, this is the only "pure" malignant sebaceous tumor.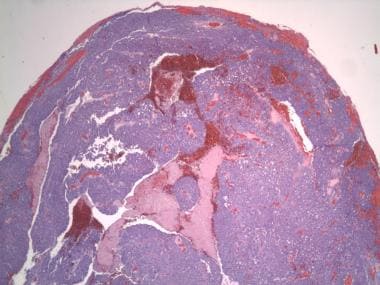 Irregular lobules and sheets of atypical sebaceous cells (20× magnification).
Sebaceous gland carcinoma is a rare tumor, with approximately 75% occurring in the periocular region.
In the United States, sebaceous gland carcinoma is the fourth most common eyelid tumor after basal cell carcinoma, squamous cell carcinoma, and melanoma, and it represents 1-5% of eyelid malignancies.
This tumor is more common in Asian countries, reportedly comprising 33% of eyelid tumors and second behind basal cell carcinoma.
The upper eyelid is involved 2 to 3 times more commonly than the lower eyelid.

Sebaceous carcinoma typically occurs in the sixth or seventh decade of life, with a wide age range from early childhood through the 90s.
Women are affected more than men, comprising between 55% and 77% of cases.

See Sebaceous Carcinoma and Sebaceous Gland Carcinoma for more information.