Overview
Urticaria, commonly referred to as hives, is a common dermatologic disorder seen in the emergency department (ED). It may be either acute (lasting 6 wk). A large variety of urticaria variants exist, including acute immunoglobulin E (IgE)–mediated urticaria, chemical-induced urticaria (non-IgE-mediated), urticarial vasculitis, autoimmune urticaria, urticaria multiforme, neutrophilic urticaria, cholinergic urticaria, cold urticaria, mastocytosis, Muckle-Wells syndrome, and many others.

Urticaria appears as raised, well-circumscribed areas of erythema and edema, often with central pallor, that involve the dermis and epidermis and are usually very pruritic. It may be confused with a variety of other dermatologic diseases that are similar in appearance, including atopic dermatitis (eczema), maculopapular drug eruptions, contact dermatitis, insect bites, erythema multiforme, pityriasis rosea, and others.

Usually, however, the experienced clinician is able to distinguish these other diseases from urticaria because of the latter's distinctive appearance (see the images below), because it is intensely pruritic, and because it blanches completely with pressure.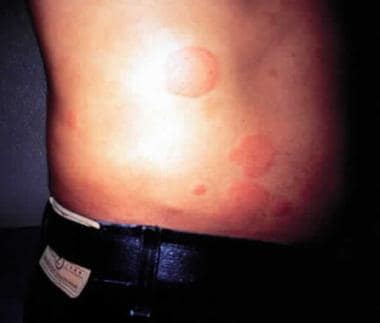 Urticaria developed after bites from an imported fire ant.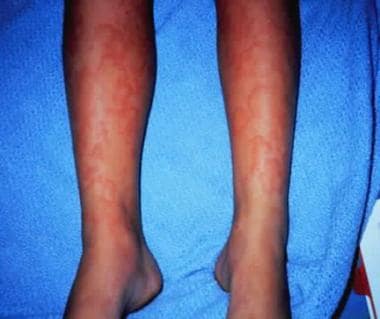 Urticaria associated with a drug reaction.
Acute IgE-mediated urticaria is the most benign form of anaphylaxis. It usually occurs independently, but it may be accompanied by the more serious clinical manifestations of anaphylaxis: angioedema and anaphylactic shock. Therefore, the clinician must rule out these more severe syndromes of anaphylaxis in patients presenting with urticaria. The lesions of IgE-mediated urticaria usually last less than 24 hours and are often migratory and leave no residual skin abnormalities. The lesions of urticarial vasculitis usually last longer than 24 hours, are both painful and pruritic, and often leave purpuric and hyperpigmented lesions.

The etiologies of both acute and chronic urticaria are numerous. (See Etiology.) The etiologic agent is more likely to be identified in acute urticaria (40-60%) than in chronic urticaria (10-20%).
For a general discussion of urticaria, see the overview topic Acute Urticaria.
Patient education
Education regarding avoidance of the suspected offending allergen is essential.
For patient information, see the Allergy Center and Skin, Hair, and Nails Center, as well as Hives and Angioedema.