Overview
Endocarditis refers to endothelial damage with thrombosis on endocardial surfaces, typically on the heart valves (see the image below). Two major types of endocarditis exist: infectious endocarditis, which has a microbial etiology, and noninfectious endocarditis.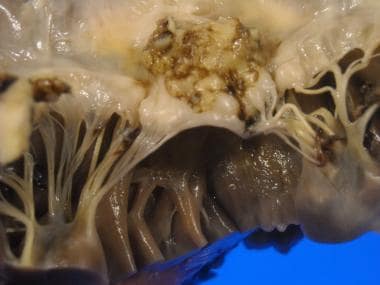 Mitral valve: endocarditis with large vegetation on the atrial aspect of the valve. The underlying chordae are relatively unremarkable.
Several terms have been used for these conditions, including (subacute) bacterial endocarditis for infectious endocarditis, and nonbacterial thrombotic endocarditis (NBTE) or marantic endocarditis for noninfectious endocarditis. The term NBTE is still in current use, but this term and subacute bacterial endocarditis are to be discouraged, as not all infections are caused by bacteria.
The population-based incidence of endocarditis is 4-10 per 100,000 per year, with a slightly higher rate in men.
The death rate due to endocarditis has been estimated at 1 per 100,000 per year, and it is greater than 10 times that amount in an urban population with a high rate of intravenous drug abuse (IVDA).
Endocarditis accounts for about 0.75 admissions per 1000 per year in large community hospitals.

See the following articles for more information:
Pediatric Bacterial Endocarditis
Neurologic Sequelae of Infective Endocarditis