Overview
Background
Scrotal abscess (see image below) is an abscess that can be either superficial or intrascrotal. The etiology of superficial scrotal abscess is infected hair follicles and infections of scrotal lacerations or minor scrotal surgeries. An intrascrotal abscess most commonly arises from bacterial epididymitis, but may also be related to tuberculous infection of the epididymis, a testicular abscess that ruptures through the tunica albuginea, or drainage of appendicitis into scrotum through a patent processus vaginalis.
Scrotal abscesses can also occur as a result of extravasation of infected urine from the urethra in patients with a urethral stricture and neurogenic bladder using an external collection device.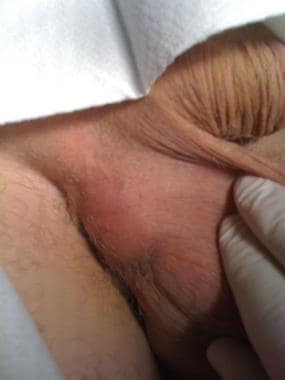 Scrotal abscess.
Fournier gangrene (necrotizing fasciitis) is a gangrenous process that involves the external genitalia. It often arises from an infection involving the urinary tract or from direct extension from a perirectal source. See image below.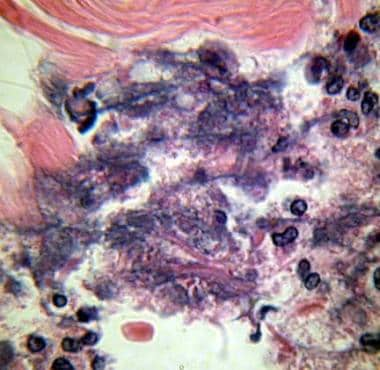 Photomicrograph of Fournier gangrene (necrotizing fasciitis), oil immersion at 1000X magnification. Note the acute inflammatory cells in the necrotic tissue. Bacteria are located in the haziness of their cytoplasm. Courtesy of Billie Fife, MD, and Thomas A. Santora, MD.
Individuals presenting with a scrotal abscess may have symptoms related to the etiology of the abscess such as symptoms of a urinary tract infection or sexually transmitted disease, such as frequency, urgency, dysuria, penile discharge. The diagnosis of a scrotal abscess is often made by history and physical examination. The scrotum is often erythematous and edematous. Scrotal fluctuance may be palpable. Tenderness of the affected epididymis and/or testis may be present. If epididymitis is the source of the abscess, the scrotal wall may be fixed to the underlying epididymis. Scrotal ultrasound is helpful in diagnosing an intrascrotal abscess when an inflammatory mass is present. Scrotal ultrasound can localize the involvement of the abscess to the scrotal wall, epididymis, and/or testis.

Indications
The management of an intrascrotal abscess, regardless of the cause, requires surgical drainage (see image below). The abscess cavities must be opened and drained, including the testis if it is involved. The cavity should be left open and packed. Fournier gangrene (necrotizing fasciitis) requires prompt resuscitation and surgical exploration and debridement as well as aggressive antibiotics. Superficial abscesses also require incision and drainage but may be treated in the emergency room/at the bedside depending on the size of the abscess.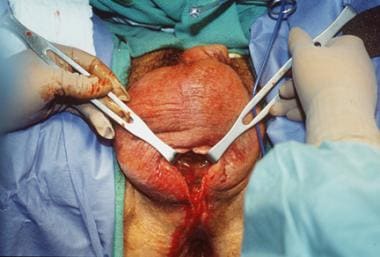 The patient depicted in this image is a man with alcoholism and known cirrhosis who presented with exquisite pain limited to the scrotum. The scrotum has been opened along the median raphe, which liberated foul-smelling brown purulence and exposed necrotic tissue throughout the mid scrotum. The testicles were not involved. Courtesy of Thomas A. Santora, MD.
Contraindications
No contraindications to the drainage of an intrascrotal abscess exist, outside of the patient being too ill to withstand surgery. Patients with Fournier gangrene (necrotizing fasciitis) require aggressive resuscitation and institution of broad-spectrum antibiotics at the time of identification and prompt surgical intervention.