Overview
The somatosensory system is the part of the sensory system concerned with the conscious perception of touch, pressure, pain, temperature, position, movement, and vibration, which arise from the muscles, joints, skin, and fascia.
The somatosensory system is a 3-neuron system that relays sensations detected in the periphery and conveys them via pathways through the spinal cord, brainstem, and thalamic relay nuclei to the sensory cortex in the parietal lobe.

Impulses are carried from receptors via sensory afferents to the dorsal root ganglia, where the cell bodies of the first-order neurons are located. Their axons then travel through the spinal cord either in an ipsilateral or a contralateral fashion. Note that second-order neuron cell bodies are located in different anatomical areas depending on the sensation they carry.
Broadly, the spinal cord contains the second-order neurons for the fibers carrying pain, touch, and temperature sensations. The medulla contains the second-order neurons for fibers carrying touch, position, and vibratory sensations. The fibers are then either conveyed to the thalamus (where the third-order neurons are located) or conveyed to the cerebellum. The latter tracts are not discussed in this article in detail because they carry information that is not perceived consciously. From the thalamic nucleus, the sensory afferents are projected to the cortical sensory areas, where information is integrated and analyzed.

The somatosensory system is displayed in the images below.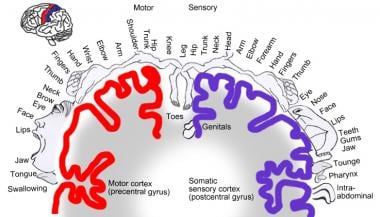 Somatosensory homunculus.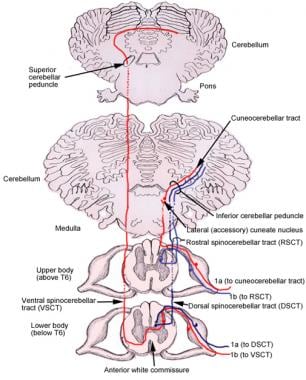 Somatosensory system.