Practice Essentials
Acute coronary syndrome (ACS) refers to a spectrum of clinical presentations ranging from those for ST-segment elevation myocardial infarction (STEMI) to presentations found in non–ST-segment elevation myocardial infarction (NSTEMI) or in unstable angina. It is almost always associated with rupture of an atherosclerotic plaque and partial or complete thrombosis of the infarct-related artery.
The image below illustrates an algorithm for triaging patients with chest pain.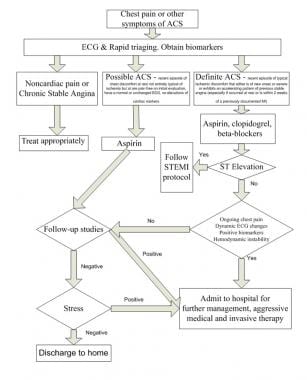 Suggested algorithm for triaging patients with chest pain. ACS = ACS; ASA = aspirin; EKG = ECG; MI = myocardial infarction; Rx = treat; STEMI = ST-elevation myocardial infarction. Courtesy of Wu et al (1999).
See Are You Missing Subtle MI Clues on ECGs? Test Your Skills, a Critical Images slideshow, to help identify a variety of electrocardiographic abnormalities.
Signs and symptoms
Atherosclerosis is the primary cause of ACS, with most cases occurring from the disruption of a previously nonsevere lesion. Complaints reported by patients with ACS include the following:
Palpitations
Pain, which is usually described as pressure, squeezing, or a burning sensation across the precordium and may radiate to the neck, shoulder, jaw, back, upper abdomen, or either arm
Exertional dyspnea that resolves with pain or rest
Diaphoresis from sympathetic discharge
Nausea from vagal stimulation
Decreased exercise tolerance
Physical findings can range from normal to any of the following:
Hypotension: Indicates ventricular dysfunction due to myocardial ischemia, myocardial infarction (MI), or acute valvular dysfunction
Hypertension: May precipitate angina or reflect elevated catecholamine levels due to anxiety or to exogenous sympathomimetic stimulation
Diaphoresis
Pulmonary edema and other signs of left heart failure
Extracardiac vascular disease
Jugular venous distention
Cool, clammy skin and diaphoresis in patients with cardiogenic shock
A third heart sound (S3) and, frequently, a fourth heart sound (S4)
A systolic murmur related to dynamic obstruction of the left ventricular outflow tract
Rales on pulmonary examination (suggestive of left ventricular dysfunction or mitral regurgitation)
Potential complications include the following:
Ischemia: Pulmonary edema
Myocardial infarction: Rupture of the papillary muscle, left ventricular free wall, and ventricular septum
See Presentation for more detail.
Diagnosis
Updated guidelines for the management of non-ST-segment elevation ACS were released in 2020 by the European Society of Cardiology (ESC).
The updates place increased reliance on high-sensitivity cardiac troponin testing (hs-cTn) for diagnosis. The guidelines include the use of the CRUSADE risk score (Can Rapid risk stratification of Unstable angina patients Suppress ADverse outcomes with Early implementation) of the ACC/AHA guidelines.
In the emergency setting, electrocardiography (ECG) is the most important diagnostic test for angina. ECG changes that may be seen during anginal episodes include the following:
Transient ST-segment elevations
Dynamic T-wave changes: Inversions, normalizations, or hyperacute changes
ST depressions: These may be junctional, downsloping, or horizontal
Laboratory studies that may be helpful include the following:
Creatine kinase isoenzyme MB (CK-MB) levels
Cardiac troponin levels
Myoglobin levels
Complete blood count
Basic metabolic panel
Diagnostic imaging modalities that may be useful include the following:
Chest radiography
Echocardiography
Myocardial perfusion imaging
Cardiac angiography
Computed tomography, including CT coronary angiography and CT coronary artery calcium scoring
See Workup for more detail.
Management
Initial therapy focuses on the following:
Stabilizing the patient's condition
Relieving ischemic pain
Providing antithrombotic therapy
Pharmacologic anti-ischemic therapy includes the following:
Nitrates (for symptomatic relief)
Beta blockers (eg, metoprolol): These are indicated in all patients unless contraindicated
Pharmacologic antithrombotic therapy includes the following:
Aspirin
Clopidogrel
Prasugrel
Ticagrelor
Glycoprotein IIb/IIIa receptor antagonists (abciximab, eptifibatide, tirofiban)
Pharmacologic anticoagulant therapy includes the following:
Unfractionated heparin (UFH)
Low-molecular-weight heparin (LMWH; dalteparin, nadroparin, enoxaparin)
Factor Xa inhibitors (rivaroxaban, fondaparinux)
Additional therapeutic measures that may be indicated include the following:
Thrombolysis
Percutaneous coronary intervention (preferred treatment for ST-elevation MI)
Current guidelines for patients with moderate- or high-risk ACS include the following:
Early invasive approach
Concomitant antithrombotic therapy, including aspirin and clopidogrel, as well as UFH or LMWH
See Treatment and Medication for more detail.
The image below depicts a 62-year-old woman with a history of chronic stable angina and a "valve problem."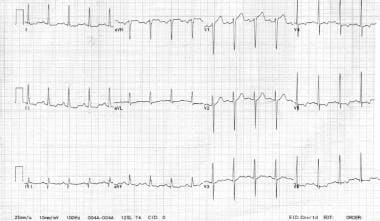 A 62-year-old woman with a history of chronic stable angina and a "valve problem" presents with new chest pain. She is symptomatic on arrival, complaining of shortness of breath and precordial chest tightness. Her initial vital signs are blood pressure = 140/90 mm Hg and heart rate = 98. Her electrocardiogram (ECG) is as shown. She is given nitroglycerin sublingually, and her pressure decreases to 80/palpation. Right ventricular ischemia should be considered in this patient.