Overview
The liver is the second largest (after the skin) organ in the human body and the largest gland (weighing an average of 1500 g). It lies under the diaphragm in the right upper abdomen and midabdomen and extends to the left upper abdomen. The liver has the general shape of a prism or wedge, with its base to the right and its apex to the left (see the image below). It is pinkish brown in color, with a soft consistency, and is highly vascular and easily friable.
Confusion surrounds the nomenclature of liver anatomy. The International Hepto-Pancreato-Biliary Association (IHPBA) terminology of liver anatomy and resections is followed by most liver surgeons.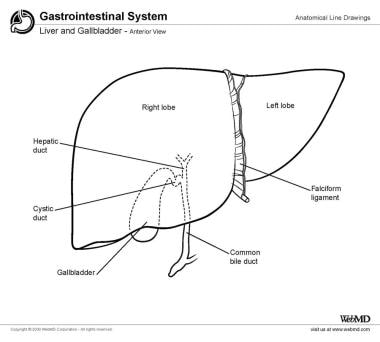 Liver and gallbladder, anterior view.