Overview
The lymphatic system parallels the cardiovascular system (see the images below). The lymphatic system is unique, in that it is a 1-way system that returns lymph fluid via vessels to the cardiovascular system for eventual elimination of toxic byproducts by end organs, such as the kidney, liver, colon, skin, and lungs.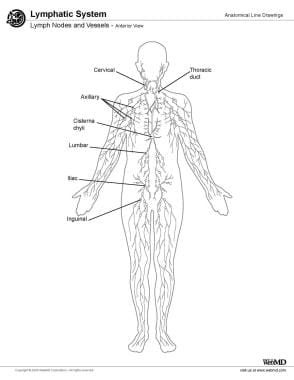 Lymph nodes and vessels, anterior view.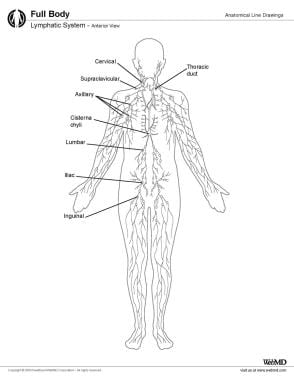 Lymphatic system, anterior view.
The lymphatic system consists of the following (see Table 1 below):
Fluid, known as lymph
Vessels that transport lymph
Organs that contain lymphoid tissue (eg, lymph nodes, spleen, and thymus)
Table 1. Key Components of Lymphatic System (Open Table in a new window)
| | |
| --- | --- |
| Organ | Function |
| Lymph | Contains nutrients, oxygen, hormones, and fatty acids, as well as toxins and cellular waste products, that are transported to and from cellular tissues |
| Lymphatic vessels | Transport lymph from peripheral tissues to the veins of the cardiovascular system |
| Lymph nodes | Monitors the composition of lymph, the location of pathogen engulfment and eradication, the immunologic response, and the regulation site |
| Spleen | Monitors the composition of blood components, the location of pathogen engulfment and eradication, the immunologic response, and the regulation site |
| Thymus | Serves as the site of T-lymphocyte maturation, development, and control |
The lymphatic system's main functions are as follows:
Restoration of excess interstitial fluid and proteins to the blood
Absorption of fats and fat-soluble vitamins from the digestive system and transport of these elements to the venous circulation
Defense against invading organisms