Overview
The gastrointestinal (GI), or digestive, tract extends from mouth to anus (see the image below). The division of the GI tract into upper and lower is a matter of some confusion and debate. On embryologic grounds, the GI tract should be divided into upper (mouth to major papilla in the duodenum), middle (duodenal papilla to midtransverse colon), and lower (mid-transverse colon to anus) according to the derivation of these 3 areas from the foregut, midgut, and hindgut, respectively.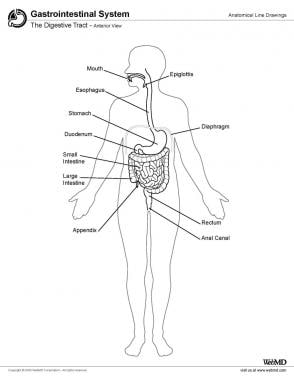 Digestive tract, anterior view.
Nevertheless, the GI tract is conventionally divided into upper (mouth to ileum) and lower (cecum to anus). From the point of view of GI bleeding, however, the demarcation between the upper and lower GI tract is the duodenojejunal (DJ) junction (ligament of Treitz); bleeding above the DJ junction is called upper GI bleeding, and that below the DJ junction is called lower GI bleeding.