Practice Essentials
Budd-Chiari syndrome is an uncommon condition induced by thrombotic or nonthrombotic obstruction of the hepatic venous outflow and is characterized by hepatomegaly, ascites, and abdominal pain.
See the image below.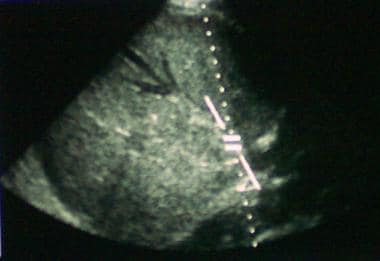 Sonogram showing hepatic vein thrombus, with new vessels forming. The arrow is pointing to the thrombus.
The prognosis is poor in patients with Budd-Chiari syndrome who remain untreated, with death resulting from progressive liver failure in 3 months to 3 years from the time of the diagnosis.
Following portosystemic shunting, however, the 5-year survival rate for patients with the syndrome is 38-87%. The actuarial 5-year survival rate following liver transplantation is 70%.

Signs and symptoms
Physical examination may reveal the following:
Jaundice
Ascites
Hepatomegaly
Splenomegaly
Ankle edema
Stasis ulcerations
Prominence of collateral veins
The clinical variants of Budd-Chiari syndrome have been described as follows
:
Acute and subacute forms: Characterized by rapid development of abdominal pain, ascites (which can cause abdominal distention), hepatomegaly, jaundice, and renal failure.
Chronic form: Most common presentation; patients present with progressive ascites; jaundice is absent; approximately 50% of patients also have renal impairment
Fulminant form: Uncommon presentation; fulminant or subfulminant hepatic failure is present, along with ascites, tender hepatomegaly, jaundice, and renal failure.
See Clinical Presentation for more detail.
Diagnosis
Laboratory studies
Examination of the ascitic fluid provides useful clues to the diagnosis of Budd-Chiari syndrome, including the following:
Patients usually have high protein concentrations (>2 g/dL); this may not be present in persons with the acute form of the disease
The white blood cell (WBC) count is usually less than 500/µL
The serum ascites–albumin gradient is usually less than 1.1 (except in the acute forms of Budd-Chiari syndrome)
Imaging studies
Ultrasonography
Computed tomography (CT) scanning
Magnetic resonance imaging (MRI)
Venography
Biopsy
Pathologic findings in liver biopsy are (1) high-grade venous congestion and centrilobular liver cell atrophy, and, possibly, (2) thrombi within the terminal hepatic venules.
See Workup for more detail.
Management
Pharmacologic therapy
Anticoagulants
Thrombolytics
Diuretics
Procedures and surgery
Balloon angioplasty
Localized thrombolysis
Placement of a stent or transjugular intrahepatic portacaval shunt (TIPS)
Variceal treatment
Paracentesis
Portal decompression
Percutaneous transhepatic balloon angioplasty (PTBA)
Liver transplantation
See Treatment and Medication for more detail.