Definition
Premalignant squamous lesions of the oral cavity are areas of altered epithelium that are at an increased risk for progression to squamous cell carcinoma (SCC).
The most common of these lesions is squamous dysplasia in association with leukoplakia and erythroplakia, which is the primary focus of this article. Not to be ignored, however, is the fact that up to 50% of oral SCCs cases arise from clinically normal mucosa.

Most often, these premalignant conditions manifest clinically as leukoplakia and erythroplakia. Leukoplakia is defined by the World Health Organization as a white lesion of the oral mucosa that cannot be scraped off and cannot be attributed to another definable lesion (see the first image below).
Erythroplakia is a red patch on the oral mucosa that cannot be accounted for by any specific disease entity (see the second image below); it exists on a continuum both in appearance and behavior with leukoplakia and mixed erythroleukoplakia (a lesion that is both white and red; see the third image below).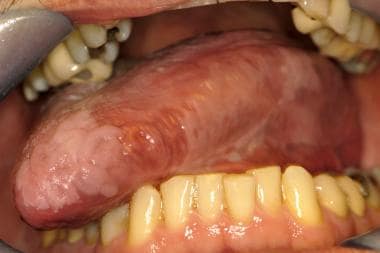 Leukoplakia. Irregular, smooth to thickened leukoplakia involves the dorsal and lateral surfaces of the tongue, which demonstrated no sign of dysplasia in multiple areas of incisional biopsy.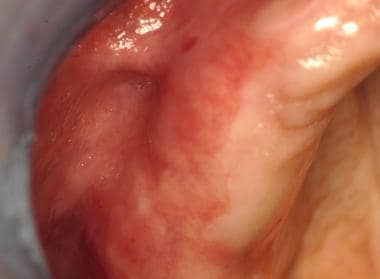 Erythroplakia. Erythroplakia is characterized by a smooth, velvety clinical presentation with a homogeneous surface, without ulceration. The tissue diagnosis was squamous cell carcinoma in situ.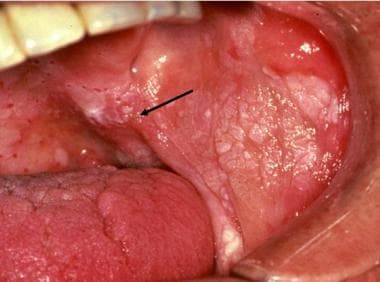 Erythroleukoplakia. Heterogeneous presentation of combined red and white surface alterations are noted, with an intermingling of these changes characteristic of erythroplakia noted at the lateral aspect of the soft palate and buccal mucosal interface (arrow). The tissue diagnosis was squamous cell carcinoma, minimally invasive.
Other less-common conditions that also demonstrate an increased risk for malignant transformation include oral submucous fibrosis (OSF), xeroderma pigmentosum, dyskeratosis congenita, epidermolysis bullosa, iron deficiency, and late-stage syphilis.
Proliferative verrucous leukoplakia (PVL) is a specific form of premalignant squamous disease with distinct clinical, histologic, and prognostic features
; although this condition is uncommon, it will be discussed briefly.
Location
Premalignant squamous lesions of the oral cavity most often occur on the buccal mucosa, the mandibular mucosa/sulcus, the palate, the tongue, and the floor of the mouth.
Proliferative verrucuous leukoplakia (PVL) is multifocal, with the buccal mucosa the most common initial site of involvement.

Alternative diagnoses
When evaluating suspected premalignant squamous lesions of the oral cavity, clinicians should also consider the following in the differential diagnosis:
Radiation atypia
Reactive atypia