Overview
Low vision is a general term that refers to a permanent functional vision loss that cannot be corrected by medication, surgery, or glasses. Low vision patients may experience a wide array of diseases, field defects, and degrees of vision loss. However, in general, low vision can be defined as a bilateral decrement to visual acuity or visual field resulting from a disruption of the visual system. This decreased acuity or field results in an impaired ability to perform work, leisure, or daily living activities. It is already known that low vision in adults does impair quality of life, and one study demonstrates that children with visual impairment had significantly lower quality of life scores than an age-matched comparison group using the Low Vision Quality of Life Questionnaire. This research reinforces the need for low vision services for children.

A low vision examination should detail the kinds and the quality of visual deficits afflicting patients and how they are adapting to their vision loss. This may include a chief complaint, as well as social, functional, and ocular health history as detailed in the sample examination form (see image below). Low vision acuity and refraction often requires such nonstandard acuity measures as the Feinbloom low vision chart with numerals in the size range of Snellen 700 to 10. Distance acuity often is measured at varying distances (eg, 10 ft, 5 ft). Trial lens refraction is recommended to ensure accurate vertex distance to allow for eccentric eye or head position.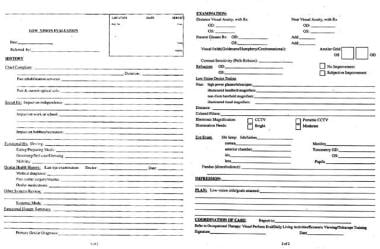 Sample examination form.
Near acuity is measured at 40 cm (ie, 0.40 m) with the patient's correction in place, with +2.50 D add if the patient is presbyopic. The add power needed to read average size print (ie, 1 M, 20/50 Snellen equivalent, Jaeger #5) is calculated by taking the reciprocal of the near acuity. For example, a patient reading 4 M print (20/200 Snellen equivalent) at 40 cm would require a +10 diopter (D) add to read 1 M print (1/0.40 m/4 M).
One option to speed up the add calculation is to use the Lighthouse Near Acuity Test chart (at 40 cm test distance), which includes precalculated adds for each acuity (see image below). To determine the necessary magnification, divide the best-corrected acuity by the desired acuity. For example, the best-corrected acuity is 20/200 and the desired level of acuity is 20/40, so the required magnification is 5 X (200/40).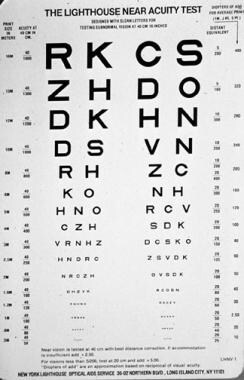 Lighthouse near acuity chart.