Overview
Peutz-Jeghers syndrome (PJS) is an autosomal dominant inherited disorder characterized by intestinal hamartomatous polyps in association with a distinct pattern of skin and mucosal macular melanin deposition.
Patients with Peutz-Jeghers syndrome have an estimated 15-fold increased risk of developing intestinal cancer compared to the general population.

See the images below.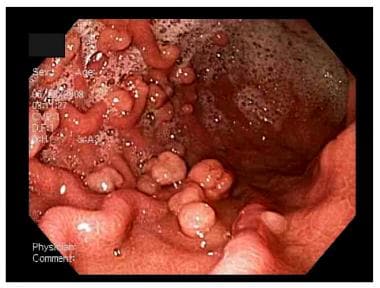 This upper endoscopy image shows multiple gastric polyps.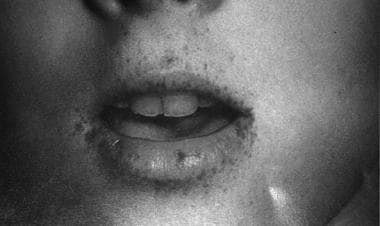 This is a facial photograph of a patient with Peutz-Jeghers syndrome. Note the mucocutaneous pigmentation that crosses the vermilion border.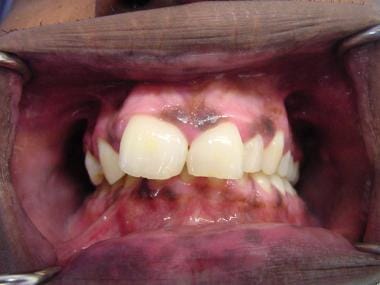 This photograph shows an oral pigmented lesion in a patient with Peutz-Jeghers syndrome.
See Clues in the Oral Cavity: Are You Missing the Diagnosis?, a Critical Images slideshow, to help identify the causes of abnormalities of the oral cavity.
The gastrointestinal polyps found in Peutz-Jeghers syndrome are typical hamartomas. Their histology is characterized by extensive smooth muscle arborization throughout the polyp.
This may give the lesion the appearance of pseudoinvasion, because some of the epithelial cells, usually from benign glands, are surrounded by the smooth muscle (the lack of dysplasia in the polyps help to differentiate pseudoinvasion from malignancy).

Cancer develops in the gastrointestinal tract of patients with Peutz-Jeghers syndrome with a higher frequency than it does in the general population.
However, this syndrome is also associated with increased breast, gynecologic, testicular, pancreatic, and thyroid papillary malignancy.
About 48% of patients with Peutz-Jeghers syndrome develop and die from cancer by age 57 years. Others may have a normal life span. The mean age at first diagnosis of cancer is 42.9 years, ±10.2 years.

During the first 3 decades of life, anemia, rectal bleeding, abdominal pain, obstruction, and/or intussusception are common complications in patients with Peutz-Jeghers syndrome.
Nearly 50% of the patients experience an intussusception during their lifetime, most commonly in the small intestine.

See the image below.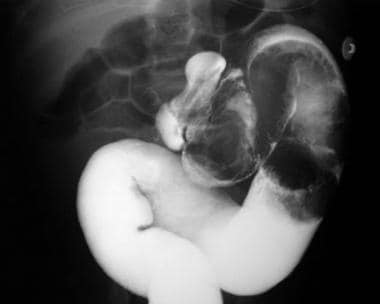 This barium enema radiograph reveals intussusception in the descending colon.
Peutz-Jeghers syndrome should be diagnosed in patients as early as possible, and genetic counseling should also be provided.
Many of the gastrointestinal lesions start developing early in life, even if the syndrome is not clinically apparent until the second and third decades of life. Proper screening for intestinal cancers and extraintestinal cancers should be implemented.
(See the Approach Considerations section.)
Historical information
The syndrome was described in 1921 by Jan Peutz (1886-1957), a Dutch physician who noted a relationship between the intestinal polyps and the mucocutaneous macules in a Dutch family.
The dermatologic component had previously been reported by John McHutchinson in 1896 in identical twins, one of who subsequently died from intussusception.
Harold Jeghers (1904-1990), an American physician, is credited with the definitive descriptive reports of the syndrome when he published "Generalized intestinal polyposis and melanin spots of the oral mucosa, lips and digits," in 1949, with McKusick and Katz.
The eponym Peutz-Jeghers syndrome was introduced by the radiologist Andre J Bruwer in 1954.