Background
Although the technique and accuracy of noninvasive testing continue to improve, cardiac catheterization (see the image below) remains the standard for the evaluation of hemodynamics. Cardiac catheterization helps provide not only intracardiac pressure measurements but also measurements of oxygen saturation and cardiac output
(see the Cardiac Output calculator). Hemodynamic measurements usually are coupled with left ventriculography for the evaluation of left ventricular function and coronary angiography.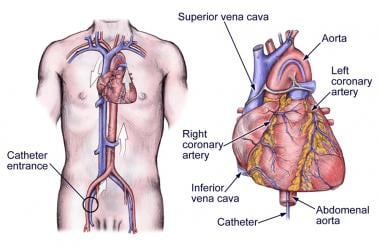 The heart catheterization.
Coronary angiography remains the criterion standard for diagnosing coronary artery disease (CAD) and is the primary method used to help delineate coronary anatomy.
In addition to defining the site, severity, and morphology of lesions, coronary angiography helps provide a qualitative assessment of coronary blood flow and helps identify collateral vessels.
Correlation of the findings from coronary angiography with those from left ventriculography permits identification of potentially viable areas of the myocardium that may benefit from a revascularization procedure. Left ventricular function can be further evaluated during stress by using atrial pacing, dynamic exercise, or pharmacologic agents.