Overview
A "medical device" can be defined as any physical item useful for diagnostic, monitoring, or therapeutic purposes. Numerous types of medical devices are available, ranging from relatively simple external objects, such as adhesive bandages, examination gloves, and wheelchairs, to high-tech implanted internal devices, such as cardiac pacemakers and cochlear implants. Although this chapter mentions nonimplanted devices, it will primarily focus on implanted medical devices (IMDs) encountered at autopsy.
The image below depicts several medical devices.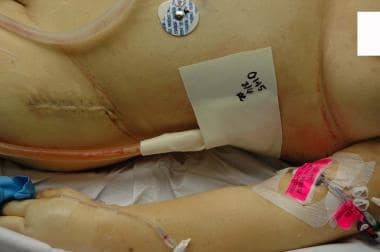 This autopsy photo shows several medical devices, many of which are combination internal/external devices, including an arterial line, an intravenous line, and a chest tube. Also note the recent surgical scar, containing implanted (totally internal) sutures, as well as the electrocardiograph (ECG) pad, a totally external device.
History
With the rapid progress that has been made within the medical sciences over the past century, thousands of diagnostic and therapeutic devices have been developed. Because these devices are used on patients, with at least a theoretical potential for misuse or harmful side effects, a system of government-operated oversight and regulation exists. Within the United States, medical devices are primarily regulated via the Food and Drug Administration (FDA), within the Department of Health and Human Services (HHS). For an object to be under such regulation, the device must first meet the criteria established by the FDA to be designated as a medical device.
The official FDA criteria are furthered defined in the Definitions section.
The mere presence of an implanted (or external) medical device within a dead body does not mean that it played a role in death. In fact, in most cases in which a device is identified at autopsy, the device does not play a role in death. However, in rare circumstances, a medical device is found to cause or contribute to death. In such cases, the device may or may not have been working appropriately. In some cases, the device was used improperly. When confronted with an autopsy case in which a medical device is suspected of causing or contributing to death, pathologists should take great care to document all findings and, if possible, remove and retain the device. A more detailed list of recommended guidelines for autopsy pathologists occurs later in this chapter.
Epidemiology
Although finding specific numbers within the medical literature is difficult, there is no doubt that the number of patients with implantable medical devices has increased markedly over the past several decades. A 2004 study estimated that in the years 1997 and 2000, over 500,000 implanted medical devices were placed in pediatric patients.

Overview of the Entity
Medical devices are as varied as the medical conditions for which they are designed. The FDA recognizes hundreds of different medical devices. They are divided into 3 different general classes, based on their potential for harm and degree of "invasiveness." These classes are further defined in the Definitions section below.

In a separate classification scheme, the FDA divides the devices into 16 different categories based on the type of medical condition for which they are used. More than 1700 medical devices are classified into 16 different FDA medical "panels" (or specialties), which include anesthesiology; cardiovascular; clinical chemistry and clinical toxicology; dental; ear, nose, and throat; gastroenterology and urology; general and plastic surgery; general hospital and personal use; hematology and pathology; immunology and microbiology; neurology; obstetric and gynecologic; ophthalmic; orthopedic; physical medicine; and radiology.

Medical devices can further be classified based on whether or not they are implanted within the body. Devices can be 1) totally external, 2) totally internal, or 3) combined external and internal (see the following image).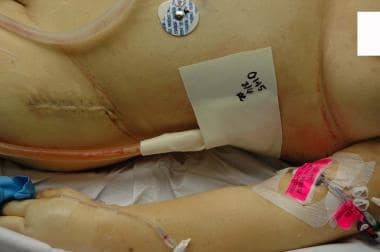 This autopsy photo shows several medical devices, many of which are combination internal/external devices, including an arterial line, an intravenous line, and a chest tube. Also note the recent surgical scar, containing implanted (totally internal) sutures, as well as the electrocardiograph (ECG) pad, a totally external device.
This chapter focuses specifically on implanted medical devices and how their examination and evaluation may be an important aspect of an autopsy/death investigation. However, the examination and evaluation of nonimplanted (totally external) medical devices and combined external/internal devices may be important in other cases. Some of the same recommendations regarding the evaluation of implanted medical devices may be applied to these other devices.
When approaching a case in which an implanted medical device is suspected to have caused or contributed to death, pathologists must gather information about the device before autopsy, determine if any safety hazards are associated with the device, perform a detailed and complete autopsy examination, document all findings, and be unbiased. Contacting hospital risk management personnel, nursing services personnel, and the attending physician before autopsy if the patient died as a hospital inpatient may be appropriate.

If the death occurred during the performance of a procedure, the pathologist must understand that procedure before performing the autopsy. Discussing the case with the persons involved may or may not always be practical but should occur, if possible. Pathologists should obtain copies of medical records as soon as possible in such cases. Hospital staff should be educated to leave all medical therapy and devices in place and undisturbed after a death has been pronounced.

Indications for the Procedure
Because more than 1700 medical devices are recognized by the FDA, providing information regarding the indications for use for each of them is well beyond the scope of this article. The reader should recognize that, in general, the devices may be considered diagnostic, monitoring, therapeutic, prosthetic, or surgical in nature. For each, guidelines and recommendations exist for appropriate usage. Physicians and/or other healthcare providers, usually in cooperation with an informed and consenting patient, determine if and when the implementation of the device is warranted.
For pathologists performing an autopsy on a patient who has an implanted medical device, it is recommended that, before autopsy, the pathologist learn as much as possible about the device, its indications for use, its function, the disease or condition for which it is employed, when it was implanted, and any potential complications or safety risks known to occur with the device. Depending on the device, this may require consultation with physicians within various medical specialties.
In the next section, an attempt will be made to provide a more detailed review of the 16 FDA categories, with examples of the types of medical devices within each category.