Definition
Spermatocytic seminoma is an uncommon neoplasm unique to the testis with clinicopathologic features distinctive from classic seminoma, and is not considered a variant of the latter. It was first recognized and described by Masson ("le seminome spermatocytaire") in 1946.

See an example of a spermatocytic seminoma depicted in the histologic image shown below.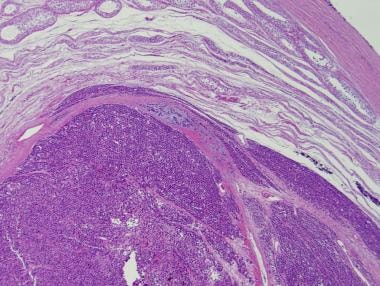 At low power, the tumor shows a sharp demarcation to the testicular parenchyma, which is edematous. There are subtle fibrous bands within the tumor.