Definition
Clear cell renal cell carcinoma (CCRCC) is a renal cortical tumor typically characterized by malignant epithelial cells with clear cytoplasm and a compact-alveolar (nested) or acinar growth pattern interspersed with intricate, arborizing vasculature. A variable proportion of cells with granular eosinophilic cytoplasm may be present. See the image below.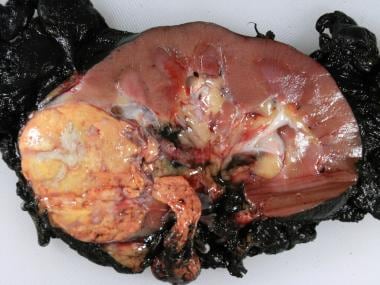 Typical gross presentation of clear cell renal cell carcinoma (lower left) with golden color due to intracellular lipid accumulation. White areas are foci of sarcomatoid differentiation. Note tumor extension along the renal vein.
See Renal Cell Carcinoma: Recognition and Follow-up, a Critical Images slideshow, to help evaluate renal masses and determine when and what type of follow-up is necessary.
Tumors in which eosinophilic cells predominate were previously classified as "granular cell" carcinoma but are currently included among CCRCCs in the 2004 World Health Organization classification of renal tumors based on the presence of vasculature and genetic alterations typical of CCRCC.
The inclusion of tumors with granular cells prompted some classifications to adopt the terminology "conventional" rather than "clear cell" renal cell carcinoma (RCC); however, current classifications have reverted to CCRCC.
CCRCC is characterized genetically by alterations to chromosome 3p.
Go to Renal Cell Carcinoma and Sarcomatoid and Rhabdoid Renal Cell Carcinoma for more complete information on these topics.