Definition
Testicular sex cord stromal tumors include Leydig cell tumors, Sertoli cell tumors, and granulosa cell tumors. Leydig cell tumors (see the image below) are derived from normal Leydig cells that produce testosterone and are located in the interstitium of the testis.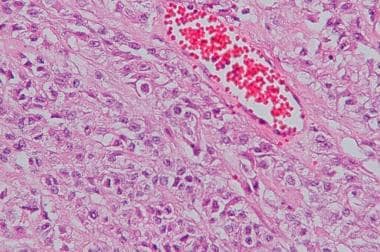 Leydig cell tumor. Note the clear cytoplasm. Courtesy of Kenneth A. Iczkowski, MD.
A typical Sertoli cell tumor (see the images below) is a tumor derived from Sertoli cells, located within seminiferous tubules, which help support spermatogenesis. Sclerosing Sertoli cell tumor is a rare variant of the Sertoli cell tumor. Large-cell calcifying Sertoli cell tumor is also a rare variant of a Sertoli cell tumor.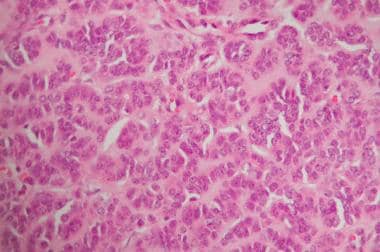 Sertoli cell tumor with characteristic arrangement in cords. Courtesy of Kenneth A. Iczkowski, MD.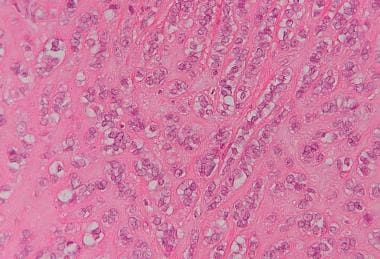 Sclerosing Sertoli cell tumor retains cord arrangement. Courtesy of Kenneth A. Iczkowski, MD.
Granulosa cells are not native to the testis. Adult-type granulosa cell tumors of the testicle are much less common than in the adult female ovary. The juvenile type of this condition is a rare sex cord stromal tumor that occurs in males in the first few months of life.