Practice Essentials
Venous thromboembolism (VTE) encompasses two interrelated conditions that are part of the same spectrum, deep vein thrombosis (DVT) and pulmonary embolism (PE) (see the image below). The spectrum of disease ranges from clinically unsuspected to clinically unimportant to massive embolism causing death.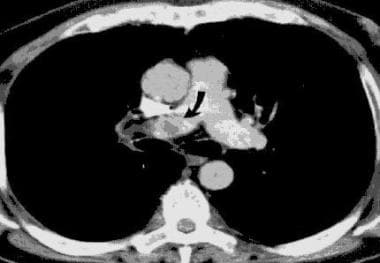 Helical CT scan of the pulmonary arteries. A filling defect in the right pulmonary artery is present, consistent with a pulmonary embolism.
Signs and symptoms
Signs and symptoms of thromboembolism include the following:
Acute onset of shortness of breath; dyspnea is the most frequent symptom of PE
Pleuritic chest pain, cough, or hemoptysis (with a smaller PE near the pleura)
Syncope (with a massive PE)
Sense of impending doom, with apprehension and anxiety
Complaints related to signs of DVT, lower-extremity swelling, and warmth to touch or tenderness
Tachypnea (respiratory rate >18 breaths/min)
Tachycardia
Accentuated second heart sound
Fever
Normal findings from lung examination
Cyanosis
See Presentation for more detail.
Diagnosis
Workup for thromboembolism includes the following:
Pulmonary angiography: Diagnostic standard for PE
Ventilation-perfusion scanning: Most common screening technique
Venography: Standard test for validating new diagnostic procedures
Arterial blood gas values on room air: Hypoxemia, elevated alveolar-arterial oxygen gradient
Acid-base status: Respiratory alkalosis
Enzyme-linked immunoassay (ELISA) for D-dimer
Electrocardiography, especially for ruling out myocardial infarction
Chest radiography: Most often normal but occasionally suggestive
Helical (spiral) computed tomography of pulmonary vessels
Doppler ultrasonography of venous system
Echocardiography
Impedance plethysmography: Of limited value when DVT is asymptomatic or distal or when findings are nonocclusive
See Workup for more detail.
Management
Anticoagulant medications include the following:
Heparin or a low-molecular-weight heparin (LMWH)
Subsequent administration of an oral coumarin derivative (typically, warfarin sodium)
Oral factor Xa inhibitors (eg, rivaroxaban)
Thrombolytic options (for initial treatment of patients with acute, massive PE causing hemodynamic instability) include the following:
Tissue plasminogen activator (t-PA; first-choice thrombolytic agent), including the recombinant agents alteplase, reteplase, and tenecteplase
Streptokinase (risk of antibody development)
Urokinase (of limited availability)
Surgical interventions include the following:
Thrombectomy
Embolectomy (limited to massive PE when thrombolysis is contraindicated or other treatments have failed)
Venous interruption (currently rare)
Prevention
Thromboprophylaxis reduces the incidence of DVT and fatal PE and may be achieved by pharmacologic or mechanical means. Medications used for prevention of thromboembolism include the following:
Unfractionated heparin
LMWH
Danaparoid
Warfarin
Direct oral anticoagulants
Aspirin
Mechanical approaches to thromboprophylaxis include the following:
External compression
Early ambulation
See Treatment and Medication for more detail.