Practice Essentials
Osteonecrosis (see images below) of the humeral head is a disorder that involves osteocytes and marrow and is characterized by bone death. Osteonecrosis of the humeral head may be traumatic or atraumatic. Most of the information regarding osteonecrosis of the humeral head is extrapolated from the research findings on osteonecrosis of the hip, which has been studied more thoroughly and is therefore better understood than osteonecrosis of the shoulder.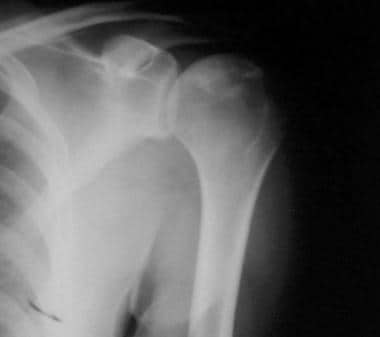 Shoulder osteonecrosis stage II disease.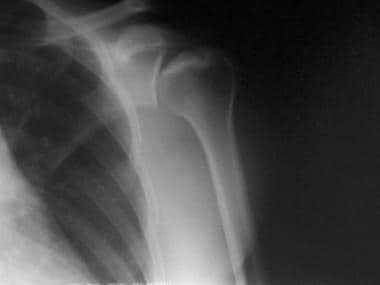 Shoulder osteonecrosis stage IV disease.
Osteonecrosis of the humeral head ultimately can result in collapse of the humeral head articular surface and joint destruction. The shoulder is not subjected to the same weightbearing forces as the hip. The glenoid is less constrained and therefore accepts greater deformity of the humeral head. Also, the blood supply about the shoulder is abundant, and the scapula can compensate for some of the glenohumeral motion loss.
Traumatic osteonecrosis results from disruption of the blood supply caused by fracture or dislocation of the proximal humerus.
Atraumatic osteonecrosis also is believed to involve abnormalities of humeral head blood flow from multiple etiologies. Steroid therapy is the most common reported cause of atraumatic osteonecrosis which can be bilateral or multi-focal. Osteonecrosis is considered multifocal when three or more joints are involved with the femoral and humeral head most often affected.

Disease prevention is key. Identifying those at risk and defining preventive measures is helpful. Many cases can be treated successfully without surgical intervention. Prosthetic fixation in those with osteonecrosis of the shoulder often can be performed without cement because of good bone quality. Clinical identification of disease progression is critical to recognize and treat symptomatic disease in the early stages, thereby avoiding arthroplasty.