Background
Riedel thyroiditis, or Riedel's thyroiditis (RT), is a rare, chronic inflammatory disease of the thyroid gland characterized by a dense fibrosis that replaces normal thyroid parenchyma. The fibrotic process invades adjacent structures of the neck and extends beyond the thyroid capsule. This feature differentiates RT from other inflammatory or fibrotic disorders of the thyroid. Extension beyond the thyroid also differentiates this from the fibosing variant of Hashimoto thyroiditis. Gross pathology is shown in the image below. (See Etiology and Workup.)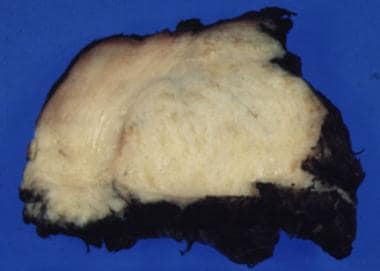 Gross pathology of Riedel thyroiditis. The cut edge is avascular, with a characteristic white color. Image courtesy of SL Lee.
Involvement in RT may be unilateral or bilobar. Thyroid function depends on the extent to which the normal thyroid gland has been replaced by fibrotic tissue. Most patients are euthyroid, but hypothyroidism is noted in approximately 30% of cases. Rarely, hyperthyroidism can occur, but this is probably secondary to a coexisting condition. (See Prognosis, Presentation, and Workup.)
Some experts have traditionally believed that RT is not primarily a thyroid disease but rather that it is a manifestation of the systemic disorder multifocal fibrosclerosis. Approximately one third of RT cases are associated with clinical findings of multifocal fibrosclerosis at the time of diagnosis. (See Etiology.)
In 1883, Professor Bernhard Riedel first recognized the disease. He published a description of 2 cases in 1896 and of a third case in 1897.
Riedel used the term eisenharte struma to describe the stone-hard consistency of the thyroid gland and its fixation to adjacent structures. He noted the presence of chronic inflammation with fibrosis and the absence of malignancy on microscopic examination. Simple wedge resection of the thyroid isthmus was used to alleviate tracheal obstruction and is still the preferred surgical therapy for RT.
Complications
Because of the encroachment beyond the thyroid capsule, nonthyroid problems can be associated with RT. Complications of Riedel thyroiditis can include the following:
Airway obstruction
Dysphonia
Hoarseness – Due to recurrent laryngeal involvement
Hypothyroidism
Hypoparathyroidism
Dysphagia
Stridor – Due to tracheal compression