Practice Essentials
Vitreous wick syndrome, also known as vitreous touch syndrome, occurs after eye surgery or trauma and consists of microscopic wound breakdown accompanied by vitreous prolapse that develops into a vitreous wick. Vitreous wick syndrome may result from the following:
Routine cataract surgery with unrecognized posterior capsular rupture or zonular dehiscence with vitreous prolapse and adhesion to the surgical wound
Complicated cataract surgery with posterior capsular rupture and inadequate anterior vitrectomy with adhesion to the surgical wound
Transconjunctival scleral intravitreal injection of pharmacologic agents
Sutureless small-gauge pars plana vitrectomy
Inadequate prolapsed vitreous removal during repair of scleral or sclerocorneal lacerations
Signs and symptoms
The history may reveal the following:
Pain
Blurring of vision
Itchiness or foreign body sensation
Gush of warm fluid
Recent eye surgery
Recent eye trauma
Gross physical findings may include the following:
Mucous threadlike substance protruding from a surgical site
Irregular pupil
Corneal haze
Hypopyon
Eye redness
Eye discharge
See Presentation for more detail.
Diagnosis
Specimens may be obtained from the external and internal eye for the following studies:
Gram stain or Giemsa stain
Cultures and sensitivities
Calcofluor white (suspected fungal infection)
Findings from slit-lamp examination may include the following:
Externalized vitreous at the wound site (see image below)
Necrotic area around the vitreous wick
Vitreous strand(s) in the anterior chamber
Vitreous strands adherent to the internal aspect of the surgical wound
Peaked pupil
Displaced intraocular lens implant
Posterior capsular rupture
Anterior chamber cells and flare
Positive Seidel test result (A Seidel test is used to identify leakage of aqueous fluid from the anterior chamber. After applying topical anesthesia on the lower eyelid V-pocket, a drop of anesthetic is placed on a fluorescein sodium ophthalmic strip, which is administered on the same area. Examination using a slit lamp biomicroscope with cobalt blue filter is performed to identify pooling of dye and dilution of the dye. Dilution of the dye at the wound area signifies a positive Seidel test result.)
Corneal haze
Hypopyon
Posterior chamber cells and flare
Vitreous degeneration
Cystoid macular edema
Retinal tears or detachment
Endophthalmitis
See Workup for more detail.
Management
Principles of management for vitreous wick syndrome are as follows:
Treatment is primarily surgical but may also include medical therapy as appropriate
The surgical approach to the management depends on the presentation
The type of topical antibiotics used in treatment depends on the suspected infecting agent or the culture and sensitivity results
Postoperative medications may include topical antibiotics (broad-spectrum or targeted), nonsteroidal anti-inflammatory drug (NSAID)-containing ophthalmic drops, steroid drops, and pilocarpine ophthalmic drops
Patients should receive follow-up care 1-2 days after surgery
The use of an eye shield, especially at night, protects the globe from any untoward traumatic episodes
It is essential to determine whether the vitreous wick extends beyond the surgical wound or is merely adherent to the internal edge of the surgical wound. In the latter, the risk of infection is markedly reduced, but one must be aware of the potential long-term effects of ocular inflammation, vitreoretinal traction, and macular edema.
See Treatment and Medication for more detail.
Image library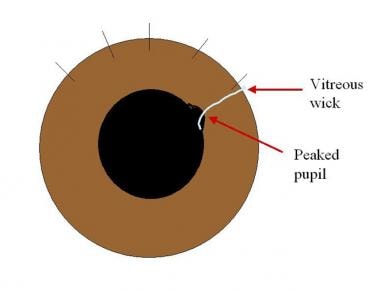 Externalized vitreous with a peaked pupil. Image courtesy of Manolette Roque, MD, MBA, Roque Eye Clinic.