Background
Intraocular foreign bodies (IOFBs) are rather variable in presentation, outcome, and prognosis. With increased awareness and advanced surgical techniques, the outcome and the prognosis for these potentially devastating injuries have substantially improved.
The most important limiting factor today is the damage occurring at the time of the initial injury. One effective method appears to be prophylactic chorioretinectomy (see Surgical Care), which reduces the risk of postinjury proliferative vitreoretinopathy (PVR).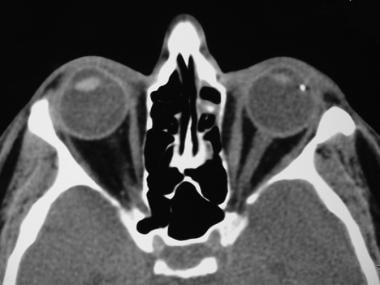 Metal intraocular foreign body located in the left temporal pars plana region seen on axial CT scan.