Practice Essentials
Cytomegalovirus (CMV) retinitis (see image below) is an acquired immunodeficiency syndrome (AIDS)–defining infectious disease that can be visually debilitating and that can potentially portend poor systemic outcomes, including early mortality. It is the most common clinical manifestation of CMV end-organ disease and presents as a unilateral disease at presentation in two-thirds of cases
but is ultimately bilateral in most patients in the absence of therapy or immune recovery.
CMV retinitis can arise either upon acute viral introduction to the host or through viral reactivation in the context of immunocompromise.
AIDS is a classic antecedent; however, with the advent of highly active antiretroviral therapy (HAART), CMV retinitis is becoming less common in this setting. Organ transplant recipients and patients who use immunosuppressants are other affected patient populations.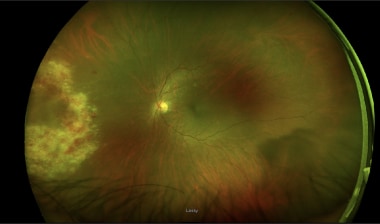 A left-eye wide-field fundus photograph demonstrating a confluent patch of intraretinal whitening, hemorrhage, and vascular attenuation nasal to the optic nerve consistent with CMV retinitis.
Signs and symptoms
In most patients, CMV retinitis has an insidious onset that is often asymptomatic, beginning with transient visual obscurations ("floaters") and visual indistinction and haze, and eventually leading to geographic scotoma and, possibly, complete blindness.
Signs and symptoms of CMV retinitis include the following:
Many patients are initially asymptomatic
Fulminant hemorrhagic retinal whitening and edema in its acute phase
Retinal vascular attenuation and sclerosis
Opacification of perivenular retina, also called "frosted branch" angiitis
Constitutional symptoms
Photopsias ("flashing lights")
Transient mobile visual opacities and obscurations within the central and peripheral visual fields ("floaters")
Scotoma ("blind spots")
Pain and photophobia (uncommon)
Physical examination should be performed to identify the following:
Anterior chamber and posterior segment white cell and flare quantification
Intraocular pressure measurement
Assessment of the retinitis location relative to the macula
Guidelines for evaluation
See the Guidelines for the Prevention and Treatment of Opportunistic Infections in HIV-Infected Adults and Adolescents.
Diagnosis
No test results are pathognomonic for CMV retinitis. Diagnosis is based on a combination of clinical, laboratory, historical, and imaging information. Examination of the retina by an experienced ophthalmologist is a prerequisite for diagnosis. Blood tests to identify CMV via antigen detection, culture, or polymerase chain reaction (PCR) have been shown to have poor positive predictive value. A negative plasma or tissue PCR result does not exclude CMV end-organ disease. Available laboratory tests that can support a diagnosis of CMV retinitis include the following:
CD4 T-cell count < 50 cells/µL
High level of CMV viremia measured via PCR
High plasma HIV RNA levels (>100,000 copies/mL)
The following are potentially helpful imaging studies:
Fundus photography
Fluorescein retinal angiography
Optical coherence tomography (OCT)
Ophthalmic ultrasonography
Chest radiography
Gastrointestinal endoscopy
Treatment
Pharmacotherapy is the mainstay of treatment when retinal detachment is absent. During the AIDS epidemic of the 1980s and early 1990s in the United States, intracameral drug-eluting devices were used but have since been discontinued. Current medical options include the following:
Ganciclovir, intravenous or intravitreal
Valganciclovir, oral
Foscarnet, intravenous or intravitreal
Cidofovir, intravenous or intravitreal
When retinal detachment has occurred, pars plana vitrectomy with long-acting retinal tamponade is the preferred surgical option. Among available tamponades, silicone oil has been used more frequently, although perfluoropropane has been shown effective. Scleral buckling has not shown equivalent results.