Background
Eales disease is an idiopathic obliterative vasculopathy that usually involves the peripheral retina of young adults. In 1880, Henry Eales first described it in healthy young men with abnormal retinal veins and recurrent vitreal hemorrhages.
Clinical findings in Eales disease are characterized by avascular areas in the retina periphery, followed posteriorly by microaneurysms, dilatation of capillary channels, tortuosity of neighboring vessels, and spontaneous chorioretinal scars. It is a diagnosis of exclusion, as many other retinal disorders can mimic Eales disease, especially conditions of retinal inflammation or neovascularization. Note the clinical image below: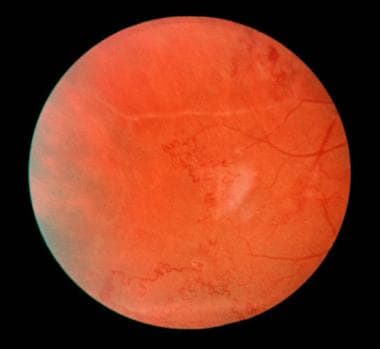 Eales disease. Fundus photo of the peripheral retina, revealing vascular tortuosity and peripheral retinal neovascularization.