Background
Myopia can be corrected by 3 different means, as follows:
Optical devices (ie, glasses, contact lenses)
Corneal refractive procedures (ie, radial keratotomy [RK], automated lamellar keratoplasty [ALK], photorefractive keratoplasty [PRK], laser-assisted in situ keratomileusis [LASIK])
Intraocular procedures (ie, clear lens extraction with or without lens implantation and the use of phakic intraocular lens [IOL] implants)
The important facets of each procedure are the ease of application, the accuracy, the period of recovery, the quality of vision, the long-term stability of the results, and the minor or major complications. Also important are the possibilities of the reversal of the procedure and the successful management of complications.
Each intraocular procedure has its advantages, in terms of ease of implantation and tissue reactions causing change of position, inflammation, degeneration, and rise of intraocular pressure (IOP).
LASIK is currently the most popular type of refractive surgery. It is safe and effective, and technology advances such as femtosecond bladeless LASIK have further improved visual outcomes. However, not all patients are good candidates for LASIK surgery, including patients with severe myopia, patients who have hypermetropia or astigmatism, patients with an unusually thin or irregularly shaped cornea, and patients with eye conditions such as keratoconus, pellucid marginal dystrophies, or dry eye.
Phakic IOL is preferable over LASIK surgery in most patients with severe myopia. In such patients, outcomes of phakic IOLs are superior to those of LASIK surgery in terms of both postoperative visual acuity and contrast sensitivity.
All the various phakic IOLs, whether angle supported, iris supported, or placed in the posterior chamber, provide good immediate postoperative results. However, frequent change in the designs of the angle-supported and the posterior chamber lenses makes conclusions about long-term stability difficult. The design of the iris claw lens has practically remained unchanged in the past 15 years.
Note the images below.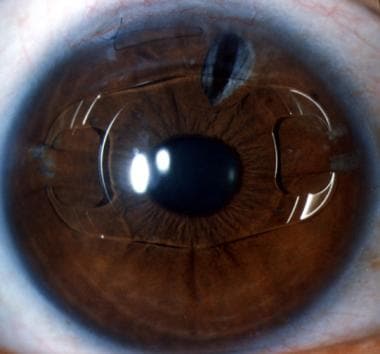 Phakic myopia lens of -20.0 diopters, 7 years postoperatively, in a 30-year-old man. There is slight upward decentration. The lens appears well tolerated.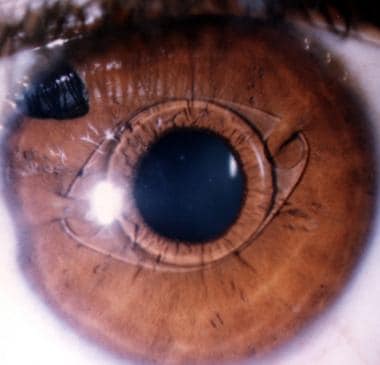 Phakic myopia iris claw lens, 11 years postoperatively. The claws of the lens are shifted upwards. This configuration makes iris fixation in the claws easier at the time of surgery. It reduces the chances of pressure by the lens haptics and the optic on the natural lens and the iris, in case a bigger knuckle of iris is drawn inside the claw.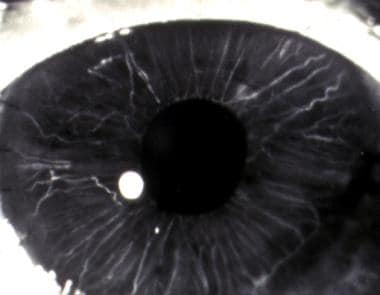 Anterior segment fluorescein angiography in a case of iris claw lens (Artisan lens) in a phakic myope. There is no dye leakage. Courtesy of Professor Jan J. F. Worst, MD.
Compared to the corneal procedures, the intraocular procedures suffer from one glaring handicap, that is, patients with the lens implants have to be under careful supervision of the ophthalmic surgeon throughout their lives to prevent or treat any adverse development. The role of microtrauma or macrotrauma as a result of blinking, squeezing, and minor rubbing during the waking hours and involuntary hard rubbing during some phases of sleep, in producing tissue changes, cannot be overemphasized.
The future of phakic IOLs shall be determined by the newer techniques of corneal refractive surgery, especially the wave-guided ablations. Phakic IOLs cannot take care of preexisting astigmatism. Surgery might introduce astigmatism of its own. Also, with the passage of months and years, patients with phakic IOLs tend to miss detailed follow-up examinations. Situations do exist where phakic IOLs and corneal procedures can be combined to provide the best refractive results. Whether a phakic myopia IOL in a young patient will be a problem in future decades is still unknown.
Phakic Intraocular Lens Types
Various phakic IOLs are available.
The Visian implantable collamer lens (ICL), marketed by Staar Surgical, is a posterior-chamber phakic IOL, meaning it is positioned behind the iris and in front of the crystalline lens. It received FDA approval in 2005 for correcting myopia ranging from -3.00 to -20.00 D. The Visian ICL is made of a soft biocompatible collagen copolymer. Owing to its flexibility, the lens can be folded during implantation, requiring only a small surgical incision.
The Verisyse (Abbott Medical Optics) is an anterior-chamber phakic IOL, meaning it is positioned in front of the iris. In 2004, the Verisyse phakic IOL received FDA approval for correcting moderate to severe myopia ranging from -5.00 to -20.00 D. The Verisyse lens is made of medical-grade plastic (polymethylmethacrylate [PMMA]) and is rigid in form. In Europe, it is approved and marketed under the trade name Artisan. Verisyse IOLs are not typically noticeable in the eye, although they may be visible to patients upon close inspection with a mirror.. This iris claw lens has been in use in India by Professor Dr. Daljit Singh by the name of Singh's modification of Jan Worst's lens since the late 1970s. Dr. Singh has implanted this lens in more than 100,000 eyes over the past 30 years.
The Visian ICL and Verisyse phakic IOL are FDA approved to correct myopia only.