Background
The zygomatic bone occupies a prominent and important position in the facial skeleton. The zygoma forms a significant portion of the floor and lateral wall of the orbit and forms a portion of the zygomatic arch, otherwise known as the malar eminence, which plays a key role in the determination of facial morphology. Fractures of the zygomatic complex occur because of the rotation of the zygoma associated with the disarticulation of the zygomatic bone at the zygomaticofrontal suture (along the lateral orbital rim), the zygomaticomaxillary suture (medially), and along the zygomatic arch to the temporal bone (see below).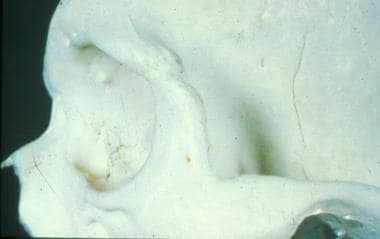 The zygoma forms a firm buttress for the orbit and typically fractures at its sutures.
Anatomically, the zygomatic bone contains foramina that allow for the passage of the zygomaticofacial and zygomaticotemporal arteries and corresponding nerves of the second division of the trigeminal nerve that supply sensation to cheek and anterior temple. Similarly, the infraorbital nerve courses the floor of the orbit and exits the infraorbital foramen or notch. Consequently, fractures of the zygomatic arch can lead to hypoesthesia in the corresponding dermatome. Muscle attachments along the zygomatic arch include the origin of the masseter, the zygomaticus major, and some fibers of the temporalis fascia. The Whitnall tubercle, which serves a critical role in the maintenance of eyelid contour as the attachment site for the lateral canthal tendon, is located on the zygomatic bone 2 mm behind the lateral orbital rim.