Background
Lowe syndrome, also called oculocerebrorenal syndrome (OCRS) and oculocerebrorenal syndrome of Lowe (OCRL), is an X-linked recessive metabolic disorder described by Lowe and coworkers in 1952.
It is a multisystem disorder that primarily affects the eyes, nervous system, and kidneys. It is characterized by congenital cataracts, infantile glaucoma, neonatal or infantile hypotonia, intellectual impairment, and renal tubular dysfunction (Fanconi syndrome).
Oculocerebrorenal syndrome is so named because of the prominent involvement of the 3 major organ systems; however, involvement of bone, gonads, muscle, skin, and connective tissue, as well as stereotypic behavior, also can occur. Additional manifestations include corneal keloids, growth retardation, areflexia, metabolic acidosis, proteinuria, aminoaciduria, and noninflammatory arthropathy. These patients often exhibit the characteristic facial appearance of frontal bossing, deep set eyes, and full cheeks, although the characteristic phenotype is often difficult to identify in neonates.
Female carriers manifest characteristic lens opacities, but they typically have normal renal and neurologic function. See the image below.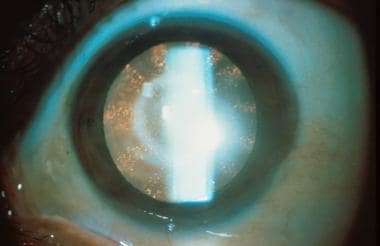 Classic lenticular opacities in a female carrier for Lowe syndrome. Note the punctate cortical opacities in radical wedges. Image courtesy of Otis Paul, MD.