Background
In 1818, Barratta first described aniridia (Greek for absence of the iris). Aniridia is a rare, bilateral, panophthalmic disorder, of which iris hypoplasia is the most striking feature (see image below).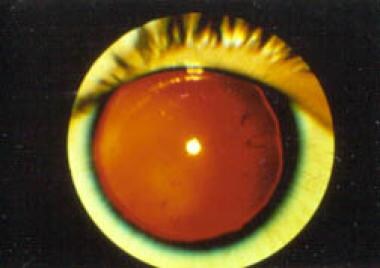 Aniridia. Note the almost complete absence of the iris.
Aniridia also has corneal, lens, optic nerve, and retinal manifestations. Foveal and optic nerve hypoplasia are often present, causing a reduction in visual acuity and congenital sensory nystagmus. Progressive worsening of vision may occur later in life as a result of cataracts, glaucoma, and corneal opacification.