Background
Limbal dermoids are benign congenital tumors that contain choristomatous tissue (tissue not found normally at that site). They appear most frequently at the inferior temporal quadrant of the corneal limbus. However, they may occasionally present entirely within the cornea or may be confined to the conjunctiva.
They may contain a variety of histologically aberrant tissues, including epidermal appendages, connective tissue, skin, fat, sweat gland, lacrimal gland, muscle, teeth, cartilage, bone, vascular structures, and neurologic tissue, including the brain.
Malignant degeneration is extremely rare. See the image below.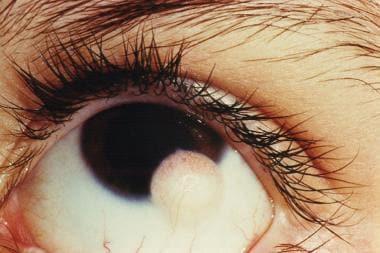 Limbal dermoid in the left eye of a 13-year-old male patient.
The most common system for classifying dermoids is based on the location of the lesion and separates the lesions into 3 broad categories. The most common dermoid is the limbal dermoid, in which the tumor straddles the limbus. Limbal dermoids are usually superficial lesions but may involve deeper ocular structures. The second type involves only the superficial cornea, sparing the limbus, the Descemet membrane, and the endothelium. The third type of dermoid involves the entire anterior segment, replacing the cornea with a dermolipoma that may involve the iris, the ciliary body, and the lens. Also see Dermoid, Orbital.