Background
Pseudophakic bullous keratopathy (PBK) and aphakic bullous keratopathy (ABK) refer to the development of irreversible corneal edema as a complication of cataract surgery.
As corneal edema progresses and worsens, first stromal and then intercellular epithelial edema develops. Epithelial edema is associated with the development of bullae; hence, the name bullous keratopathy. See the image below.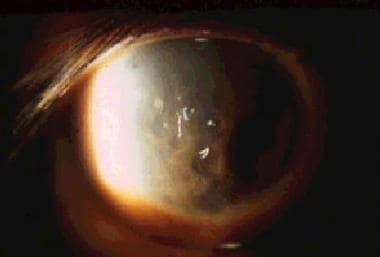 Pseudophakic bullous keratopathy. Large multiple bullae, such as depicted here, are associated with moderate to severe pain and discomfort.
The history of PBK parallels the history of the development of the intraocular lens. As surgical techniques and lens design have improved, the incidence of this complication has decreased dramatically. However, it still represents an important cause of visual disability following routine and complicated cataract surgery.