Overview
The occiput, the atlas (C1), and the axis (C2) form a functional unit, the occipitocervical articulation, which is characterized by a high degree of mobility and little intrinsic bony stability. Strong ligaments facilitate movement and keep these structures in place. Head rotation occurs primarily at this junction, and the odontoid bone is the axis that allows this rotation.

The atlanto-occipital joints allow movement in extension and flexion. In flexion, an anterior translation of C1 on C2, which normally does not exceed 3 mm in adults, exists. In children younger than 8 years, this translation can be as wide as 5 mm. In pathologic conditions (eg, abnormalities of the odontoid bone or in the ligaments that keep these joints together), this displacement increases and bone structures can pressure the spinal cord, producing clinical symptoms.
In the United States, atlantoaxial instability (AAI) with or without subluxation has been reported in as many as 10-30% of individuals with Down syndrome.

In most instances, the radiologic findings are not associated with clinical symptoms.
The condition does not necessarily occur more frequently in the United States, although most cases reported to date have occurred in the United States.
No racial predilection is known for atlantoaxial instability in Down syndrome, and the role of sex is unclear. Most studies suggest a female preponderance
; however, some reports noted a male preponderance,
and others found no difference between men and women.

Most cases of atlantoaxial instability have been described in children.
Longitudinal studies of children and adults show a high degree of stability both clinically and radiologically.
In some individuals with radiologic evidence of atlantoaxial instability at the beginning of the study, radiographic findings normalized in subsequent evaluations.
A negative correlation exists between atlanto-odontoid distance and age.

The following radiographs are provided for comparison between an image with a normal atlantoaxial relationship and that of a mild abnormality in a patient with Down syndrome.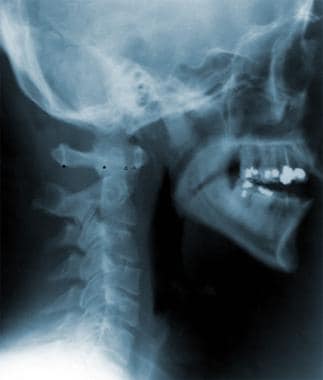 This radiograph shows the normal relationships between the anterior arch of C1 and the odontoid bone, as well as the odontoid bone and the posterior arch of C1.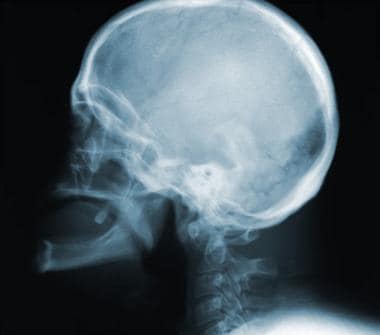 Routine lateral cervical radiograph of a 28-year-old woman with Down syndrome confirmed by chromosomal analysis. The radiograph shows a mild degree of subluxation. The patient had no clinical signs of cord compression.
See also the following:
Atlantoaxial Injury and Dysfunction
Alzheimer Disease in Down Syndrome
Ophthalmologic Manifestations of Down Syndrome
Dermatologic Manifestations of Down Syndrome
Pathology of Myeloid Proliferations Related to Down Syndrome