Practice Essentials
Paraneoplastic encephalomyelitis (PEM) is a multifocal inflammatory disorder of the central nervous system (CNS) associated with remote neoplasia.
Frequently, the disorder is accompanied by subacute sensory neuronopathy (SSN) due to involvement of the dorsal root ganglia. Anti-Hu antibodies may be detected in both of these conditions. Although various malignancies have been reported in PEM, 80% of cases are associated with bronchial cancer, typically small cell lung carcinoma.
Neurologic manifestations commonly precede the diagnosis of cancer, although variable presentations have been reported. Symptoms usually progress over the course of weeks to months, reaching a plateau of neurologic disability. Neurologic impairment may be more debilitating than the associated cancer. No effective therapeutic approaches have been established, although immunosuppressive therapies are commonly used. See the images below.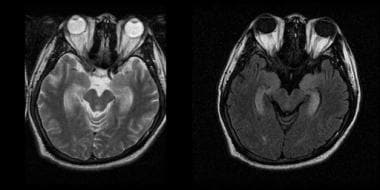 Paraneoplastic encephalomyelitis.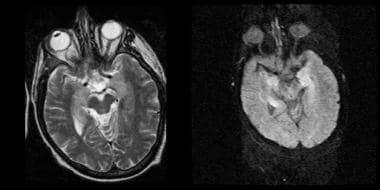 Paraneoplastic encephalomyelitis.