Practice Essentials
As the name implies, brainstem gliomas occur in the region of the brain stem. Approximately 60% of the time they are centered within the pons, but can arise from the midbrain or medulla, and can infiltrate beyond the brainstem. They account for about 20% of all pediatric primary brain tumors, but constitute less than 2% of all adult gliomas.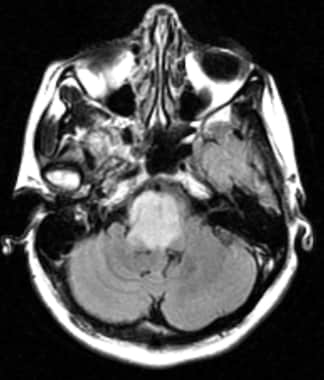 Axial T2 FLAIR MRI image showing a mass in the brainstem consistent with brainstem glioma.
Signs and symptoms
Common presenting signs and symptoms include the following:
Double vision
Weakness
Unsteady gait
Difficulty in swallowing
Dysarthria
Headache (most common presenting symptom in adults)
Drowsiness
Nausea
Vomiting
Behavioral changes or seizures in children (rare)
Deterioration of handwriting and speech, in older children
Common clinical findings on physical examination can be summarized as constituting a triad of cranial nerve deficits, long tract signs, and ataxia (of trunk and limbs). Papilledema may be seen. Sixth and seventh cranial nerves are involved commonly. Facial sensory loss and a primary-position, upbeating nystagmus may be seen. Crossed deficits (facial signs and symptoms contralateral to arm/leg signs and symptoms) are also characteristic of brainstem gliomas.
Certain manifestations suggest specific tumor locations, as follows:
Infants and children with failure to thrive – Pontine gliomas
Involvement of cranial nerve III or IV – A mesencephalic component
Hydrocephalus – Tumors in periaqueductal or fourth ventricle outflow locations
Patients with tectal lesions may present with the following:
Headache, nausea, and vomiting
Diplopia
Parinaud syndrome
Patients with cervicomedullary lesions may present with the following:
Dysphagia, unsteadiness, nasal speech, vomiting, and weakness
Sensory loss in the face (involvement of the trigeminal nucleus)
Dysphagia and/or dysphonia from lower cranial nerve involvement (commonly IX and X)
Long tract signs
Ataxia
Downbeating nystagmus and oculomyoclonus (medullary involvement)
See Clinical Presentation for more detail.
Diagnosis
The workup for brainstem gliomas may include the following:
MRI of the head – Diagnostic test of choice
CT scan – Less accurate than MRI, but appropriate when MRI is not available
CSF examination – Often used to evaluate for other diagnoses affecting the brainstem
Arteriography – Occasionally useful in differentiating vascular lesions, including tumors, from gliomas
Lab studies of blood chemistry and related body fluids are not helpful as a rule. Tissue confirmation is recommended, but sometimes not feasible.
See Workup for more detail.
Management
Treatment of brainstem gliomas may comprise the following:
Focal radiotherapy

Chemotherapy
Surgical resection/biopsy
Observation alone may be considered for some adult patients with the following:
A tectal lesion
A cervicomedullary lesion
Mild symptoms of long duration
Focal radiotherapy
Remains the cornerstone of treatment for brainstem gliomas
Can improve or stabilize the patient's condition
Should be administered to any patient with significant and progressive neurologic symptoms
Conventional doses of radiotherapy ranges from 54 to 60 Gy
Reported survival rates with radiation therapy are better in patients with exophytic tumors
Chemotherapy
Chemotherapy with agents such as temozolomide may benefit some patients with high-grade histology (glioblastoma)

Chemotherapy at relapse may benefit some patients
Chemotherapy may include conventional agents such as temozolomide and carboplatin/vincristine
Antiangiogenesis agents (eg, thalidomide, bevacizumab) have been used with success in supratentorial gliomas, but with variable success in brainstem gliomas
Patients should be encouraged to enroll in clinical trials (if available)
Surgical resection
Surgical therapy is performed in conjunction with radiation therapy, chemotherapy, or both. While it is not required for diagnosis or treatment of brainstem glioma, judicious use of biopsy/resection is recommended when safe. Surgery may improve symptomatic control and provide tissue for molecular testing for both prognosis and potential therapeutic implications. It should particularly be considered in the following situations:
Tumors of the cervicomedullary junction
Dorsal exophytic tumors protruding into the fourth ventricle
Cystic tumors
Enhancing tumors with clear margins that exert a space-occupying effect
Benign tumors (ie, those with slow clinical progression)
See Treatment and Medication for more detail.