Skin Tension Lines
Skin tension lines (STLs) are the result of a complex interaction between internal and external factors involving the skin. The intrinsic framework, which consists of elastin and collagen, progressively loosens with age. Its interaction with the muscles of facial expression leads to the development of STLs. Generally, STLs are perpendicular to the underlying muscles of the face. Aging, particularly photoaging, tends to accentuate the appearance of STLs. (See the image below.)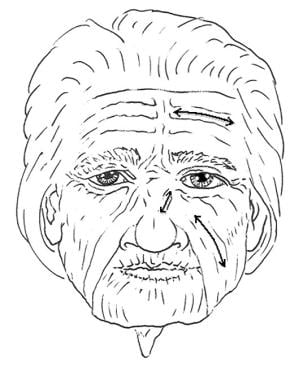 Skin tension lines. Illustrated by Charles Norman.
In the repair of STLs, the correct placement of the long axis of an excision parallel to the STLs results in better scar cosmesis. Furthermore, flaps should be placed to allow the suture lines to fall in STLs. Although STLs may vary between individuals, some areas of the face have greater variability than others. Typically, the forehead, which has 1 major muscle group that pulls it vertically, has little individual variability; nearly everyone has horizontal STLs. In comparison, anatomic areas where multiple muscles act in different directions are likely to have greater variability.
In elderly patients, the direction of the relaxed STLs is generally obvious. In areas of ambiguity, excising the lesion as a circle and undermining it invariably pulls the surgical defect into an oval, with the long axis corresponding to the relaxed STL.