Background
Maffucci syndrome is characterized by enchondromas with venous malformations with or without spindle cell hemangiomas. It was first reported by Maffucci in 1881 after a 40-year-old woman died from complications following amputation of an arm. The patient had frequent and severe hemorrhage from a vascular tumor for which she was admitted to the hospital. In view of the profuse bleeding, an amputation was performed and the patient died from infection. Maffucci reported a thorough autopsy that described all the main points of the syndrome named after him. In 1941, Carleton et al proposed the eponym Maffucci syndrome.
Maffucci syndrome is a rare genetic disorder that affects both males and females. It is associated with heterozygous somatic mutations in the isocitrate dehydrogenase 1 and 2 (IDH1/IDH2) genes.
Maffucci syndrome is characterized by benign enlargements of cartilage (enchondromas), bone deformities, and venous malformations. No racial or sexual predilection is apparent in Maffucci syndrome. No familial pattern of inheritance has been shown. Maffucci syndrome manifests early in life, usually around age 4-5 years, with 25% of cases being congenital. Patients apparently are of average intelligence, and no associated mental or psychiatric abnormalities seem to be present. About 160 cases of Maffucci syndrome have been published in the English literature.
Note the image below.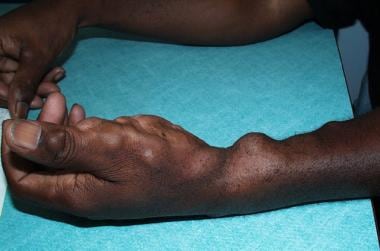 Characteristic venous malformations on the patient's right upper extremity. These vascular malformations are benign and asymptomatic.